AT&SF Class 5001 Drivers – Tenders
For all those people out there that have been complaining about not enough ATSF stuff, here's some major ATSF to make you happy.
A few years ago, I had Bill Brisco make me some really beautiful 74″ Baldwin Disc drivers for a pair of ATSF 5001 class 2-10-4's. They are real works of art and deserve to be running on my layout.
Baldwin Disc Drivers ⤵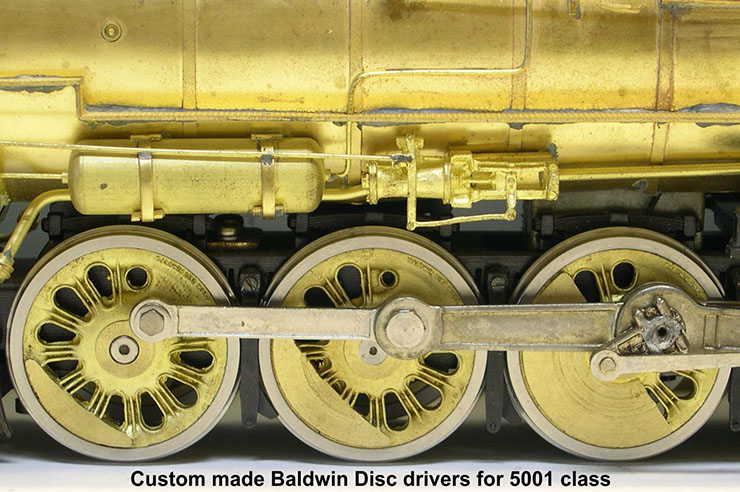 Many people are familiar with the US Hobbies ATSF 2-10-4 model. That model is of the 5011 class engines that had General Steel Castings Boxpok drivers and 42″ inside bearing lead trucks. The earlier 5001 class has never been imported by anyone. It had the Baldwin Disc drivers and a 37″ outside frame lead truck. The other really obvious difference is the huge 24,500 gallon tender on the 5011 vs the 20,000 gallon tender on the 5001.
24,000 gallon ⤵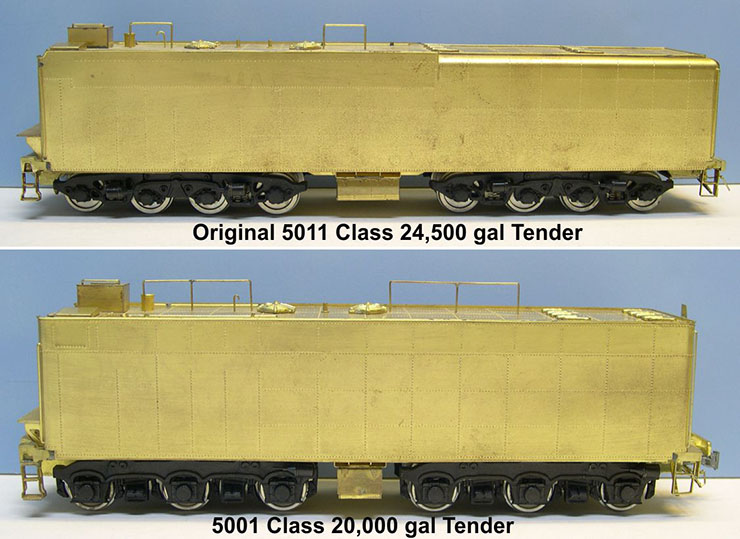 20,000 gallon ⤴
Another difference is in the positions of the number boards. In other respects, the two classes were nearly identical making it feasible to convert a USH 5011 class into a 5001 class. That is the project I am now undertaking, not just one, but two 5001 class engines.
The attached model photos show a comparison between the two classes. One is as built by USH, the other has had the Baldwin Disc drivers installed and a new lead truck and tender added. I got really lucky on the lead truck, by the way.
The cabforward trailing truck sold by PSC is a dead ringer for the 5001 lead truck, and its pivot mounting screw is at exactly the right place for the screw on the USH model. You never get THAT lucky! All I need to do is adjust the height of the pivot point a bit. You can see it is too high, so the truck is not sitting level, but that's a minor issue.
I had a lot of special castings made up for the ATSF 2-10-4 and 4-8-4 models by USH a few years ago, so I will be able to pull out all the stops on these models. Now I have to get to work on them.