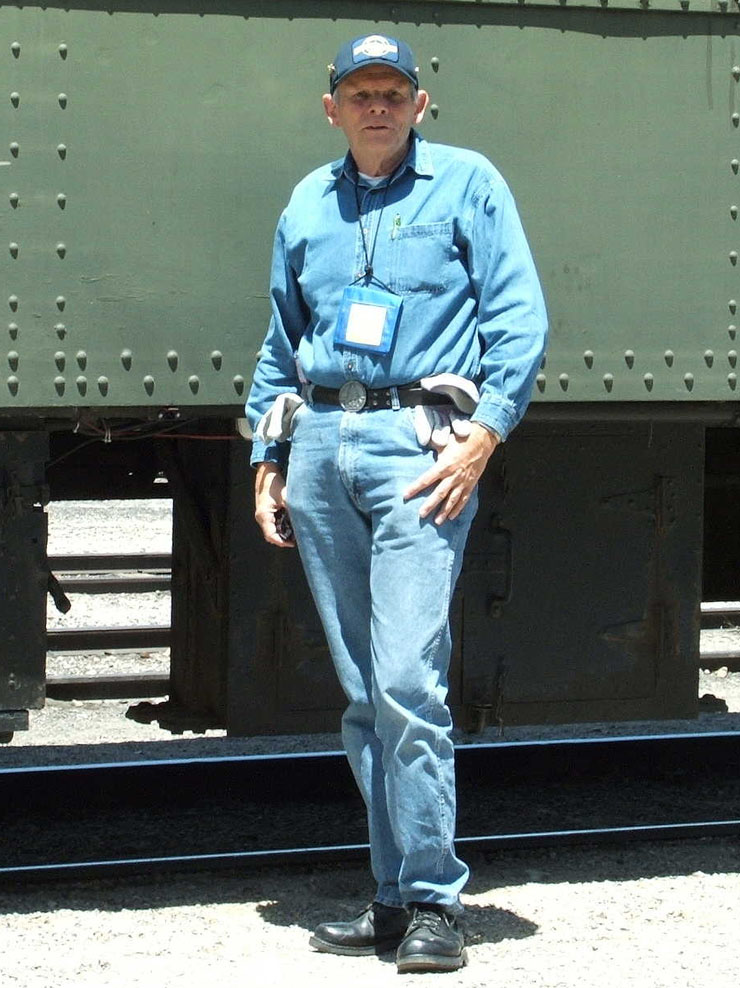 Ed, at the Nevada Northern in Ely NV, 2007
THE BALTIMORE & NEW YORK RAILWAY
For someone who has built, rebuilt or added extra details to over 250 O scale models for one's self and several fellow O scalers since 1954, not building a layout until 2006 might seem strange. Oh, I had some test tracks now and then, even a loop of O scale 2 rail track on the big attic floor of a house I lived in near Chambersburg PA in the late 1960s to early 1970s. Power for it was a 12V car battery with volt and amp gauges with a fused control rheostat on a Masonite panel.
Over the decades, I lived and worked in Illinois, Pennsylvania and in New York just north of the Catskills. I had opportunities to run my models as a member or guest on various club and private layouts. From my teens until I retired from public service in 2001, there was little opportunity for building a layout of any size. Retirement came with a move to Oklahoma, where there was no longer a need to shovel snow off the house roof in wintertime. Our new house was on a 3 ½ acre lot in ranch country. A 25' x 45' workshop with a rest room, an oversized garage bay for a classic car, a large 'L' shaped room and a work room for carpentry was built. My other hobbies included restoring old cars (1962 Alfa Romeo roadster and a 1967 Chevelle convertible) and repairing some antique furniture for resale.
The Baltimore & New York was a real railroad, built by the B&O in 1887. It was only 5.5 miles long between Cranford NJ and Staten Island, where I am originally from. It had direct connections with the Jersey Central of course, as well as the Reading Company and B&O both of which operated over the CNJ to Jersey City. Other direct connections were with the Lehigh Valley at Staten Island Junction and the Pennsylvania at Linden Junction, which included operating rights into PRR's Linden Yard.
In 1944, the B&O dissolved the B&NY as a corporation and ceded the property to the Staten Island Rapid Transit. It had operated this line for B&O since it opened for service on March 1, 1890. With such a combination of connecting and related roads, it was ideal for a model railroad name.
A track plan was developed. It worked out to become a folded loop with two branches. It could provide continuous main line running for visitors and point-to-point operations for fellow model rails interested in that aspect. One end was to be a car float terminal. The other was a branch to a rural town with local sidings and a wye and a presumed connection to another railroad from there. A large passenger station, freight yard, engine terminal and car shop was the main focal point. One end of the layout's main line had three tracks for staging loops, hidden by the small town above. Operations could include mainline running with two trains, as well as working the yard, engine terminal and car shop at Edgewater, the car float and dock area at St. George and the small town of Endsville with a few local rail businesses, depot and wye.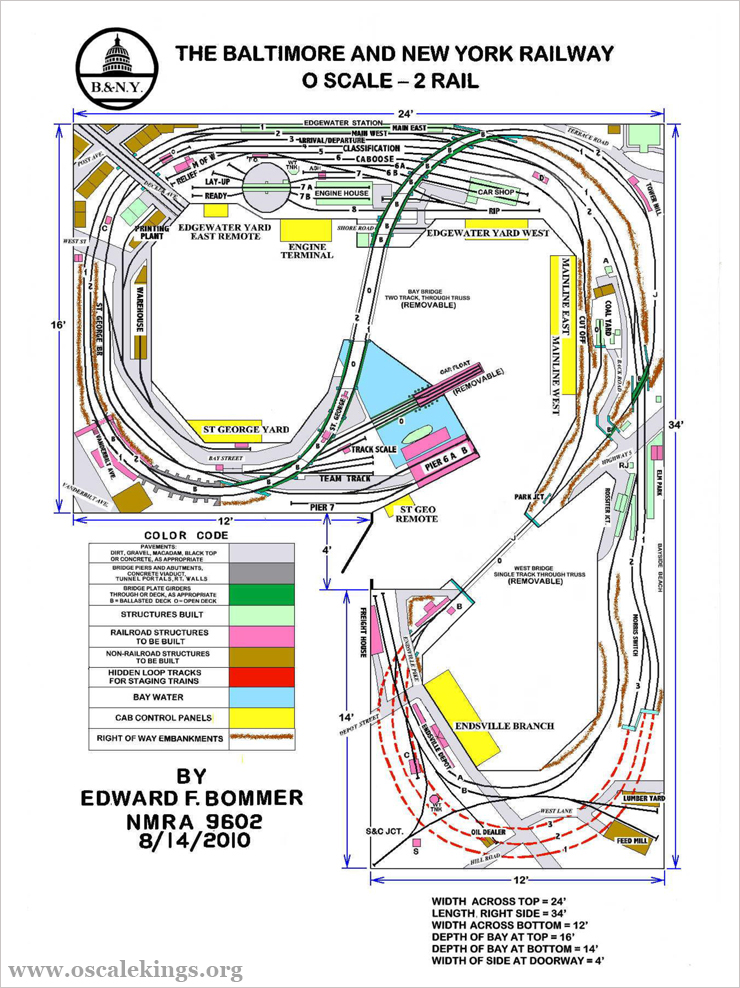 It was a freelanced pike incorporating some features of the SIRT: A car float operation at St. George. The branch to "Endsville" (for lack of a better name) was based on the one mile, upgrade curving branch on the SIRT to a large Roman Catholic orphanage at Mount Loretto. Also planned, was the eventual use of SIRT electric multiple unit cars in commuter service.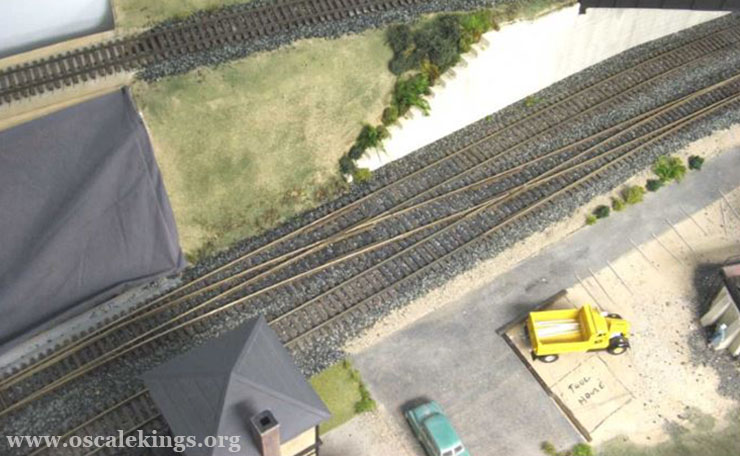 B&O standards were used in laying the track, building switches and crossovers. Above is a Number 8 scratch built crossover. Its direction is for east bound traffic coming off the branch line and moving it to the east bound main.
Edgewater was the name of the main passenger station, engine terminal and yard. It also included a car shop. The real Edgewater was a large, incorporated town on Staten Island that encompassed four smaller villages along the Island's east shore. When Staten Island became part of the City of Greater New York in the consolidation of 1898, Edgewater was dissolved. Yet Clifton, where the SIRT engine and car shops were located was part of Edgewater. So I took that expired name as well for the layout.
Below follow several photos of the B&NY layout, which sadly had to be dismantled in 2010 before it was completed. The need arose for a smaller place closer to medical facilities as my age advanced. Some parts of the B&NY are still stacked up in the corner of a work area in 2016, awaiting an uncertain fate. About 75% of the track work had been finished and 50% of the scenery, before the need to move arose. About half the rolling stock built over a span of six decades has since been sold.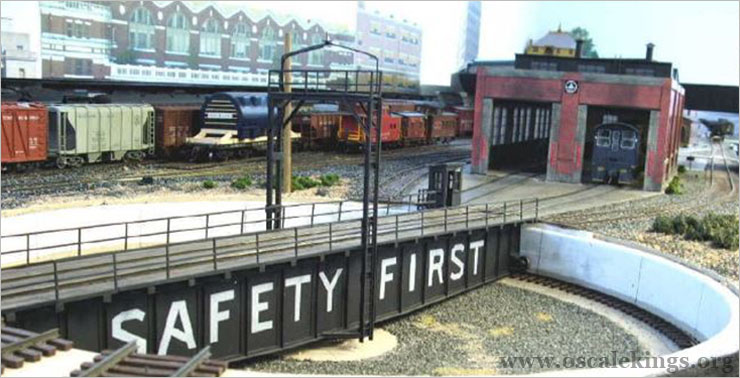 Edgewater Yard and engine terminal. The passenger station in the background is a 5 ½' long enlargement of the CP Rail terminal at Vancouver BC.
Part of the layout included a stretch of track for electric multiple unit cars which SIRT operated side by side with freight for the B&O and occasional long distance passenger specials. These were built for connecting to the NY City subway system and used high level platforms. So one was included at Edgewater station as well as at three others from there leftward, to Tower Hill.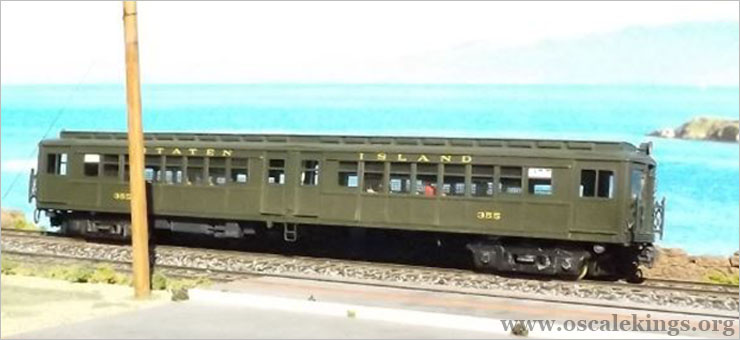 An SIRT MUE car built from an O scale Island Models Works kit in 2015, on a diorama setting. Development of the kit took too long for running any on the B&NY. I have two more of these cars to finish.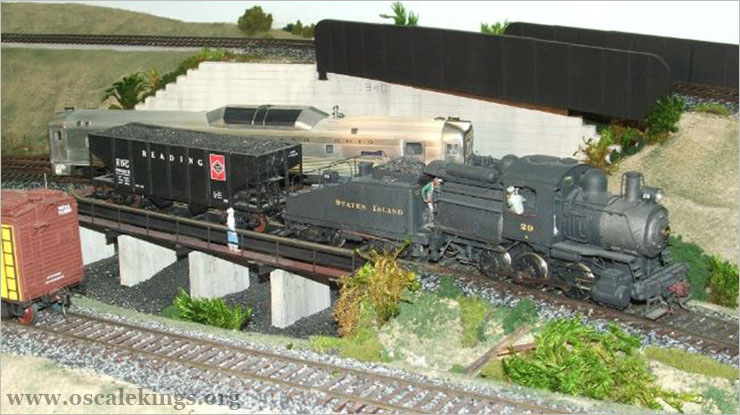 A load of anthracite is being delivered The SIRT 0-6-0 camelback was built in brass with Locomotive Workshop and Precision Scale parts. The hopper is a Walthers kit originally built in 1954. The concrete and steel coal dump trestle was built from 1946 B&O plans in 2006. The RDC 2 is from a Mac Shops kit, modified to become a B&O coach/dinette "Speedliner."
Edgewater Yard west end. A visitor's PRR 2-8-2 has arrived with a train of refrigerator cars for the St. George car float yard. A switching crew is busy to the left. A west bound Jersey Central passenger run is about to depart Edgewater station. The overhead plate girder bridges were made in styrene (left) and cardstock (center and right).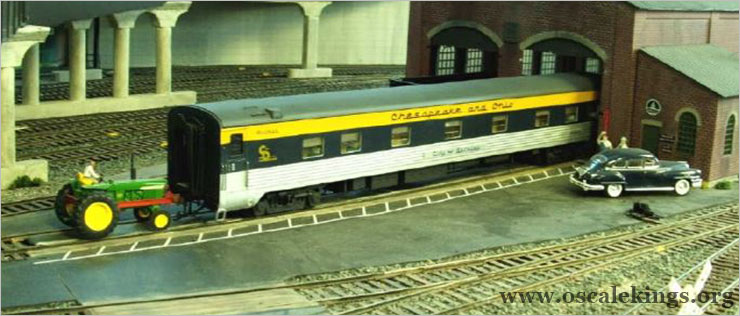 The car shop is a modified Heljan engine house. A new idea is being tried here, with the Master Mechanic coming over in his old Chrysler to check it out. For certain, grievances will be filed by the brotherhoods! B&O used a tractor equipped like this at its Cumberland Shop. The C&O sleeper was built from an American Standard kit, with a full detailed interior.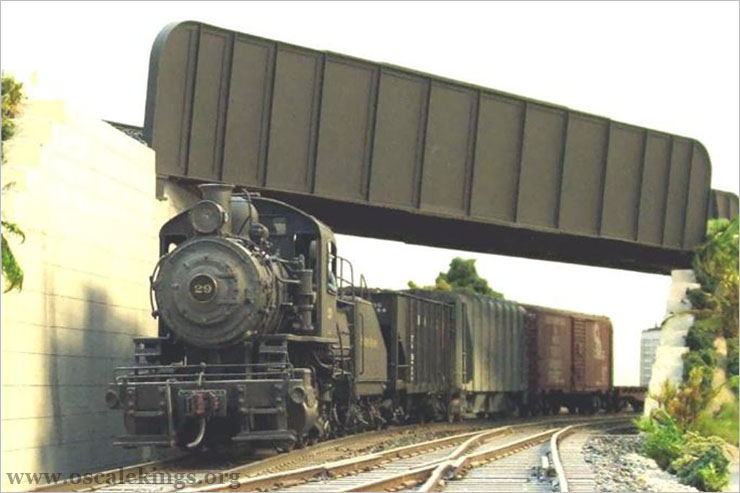 SIRT 29 on a roustabout (local freight) rolling along east bound on the B&NY main to Edgewater Yard.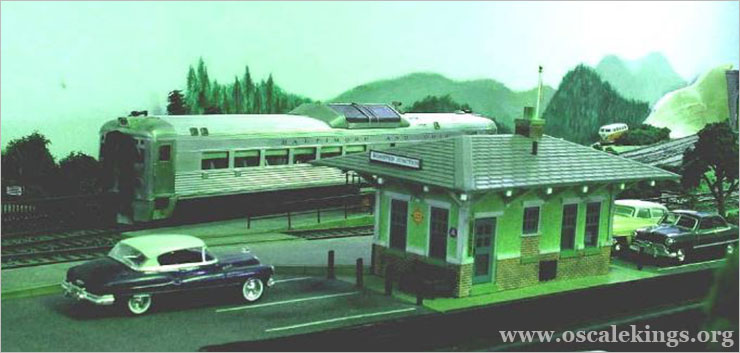 The B&O "Speedliner"eases to a stop at Rossiter Junction on its way west. The depot is a modified and re-detailed Plasticville item made into small, northeastern style suburban station.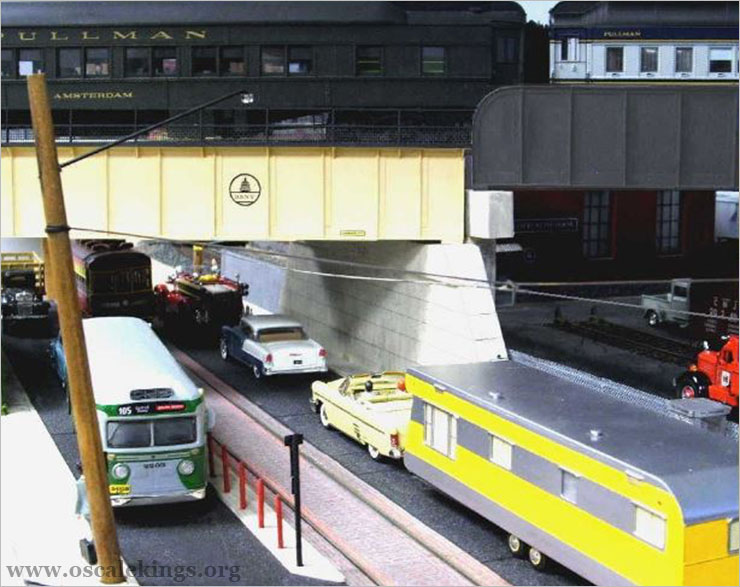 A bus stop scene on Shore Road, as B&O Pullmans in the 'Chicago Night Express' roll westward. The Pullman "Amsterdam" was built from an American Standard kit. The prototype was Pullman owned and assigned to the B&O during the 1950s, which is the setting of the B&NY.
"The Long, Long, Trailer" was scratch built in styrene with a 1954 Mercury Sun Valley convertible (I could not locate a 1953 model which was used in the movie). This street scene was based on the Bay Street SIRT overpass on Staten Island. It had trolley tracks under it until 1935, but I kept one in service here.
The B&O 'National Limited' from St. Louis makes a stop at Edgewater on its way east to Jersey City. The observation "Genesee River" was re-built from a $10 junker found on eBay. A Mac Shops B&O sleeper as "Bobolink" is in front of it. The high level platform at Edgewater Station was 11 1/2' long and could hold six full length passenger cars. This train has seven cars, so the observation barely fits.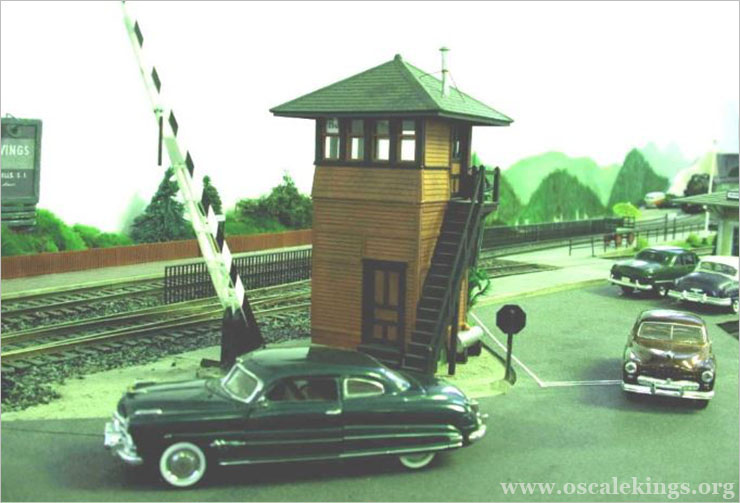 RJ Tower controls the branch line switch at Rossiter Junction and the Highway 5 grade crossing to Elm Park. The tower is a modified Plasticville item which is based on a 1905 B&O design.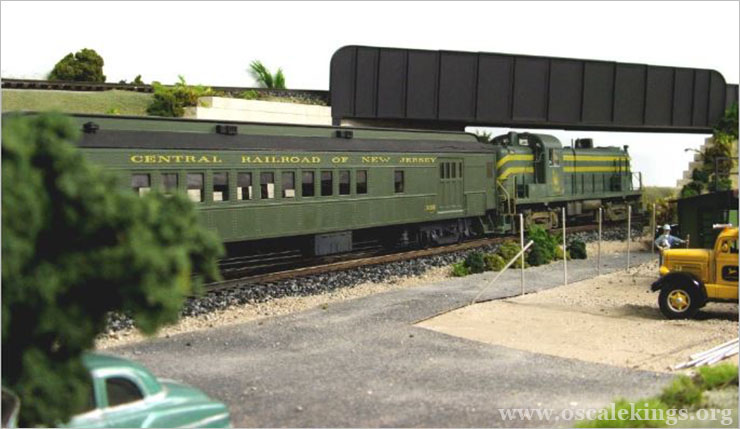 A Jersey Central run heads west beside Back Road. The Weaver RS3 leads a modified All Nation N&W combine made to model CNJ 303. Two CNJ coaches were following.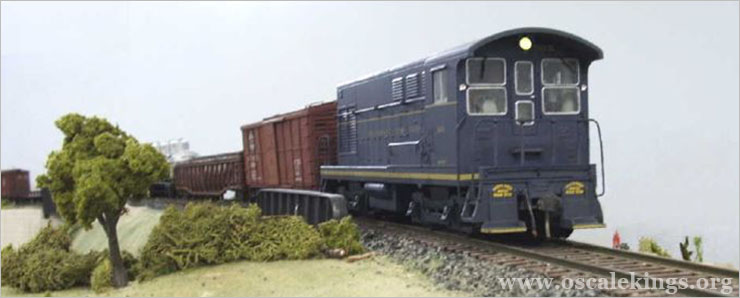 A B&O FM switcher leads a transfer move along the high line of the B&NY. The loco is a modified MTH 2 rail unit from the 1990s, which won a first place for diesels at the 2010 Midwest March Meet model contest! However, a number of changes were made to the MTH loco well before that event.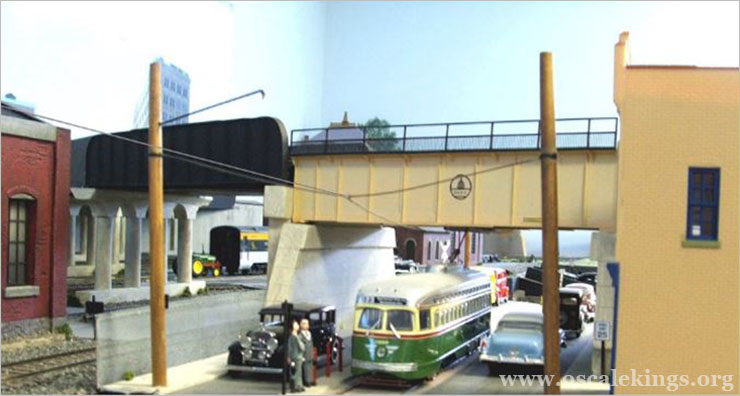 Shore Road car stop, a street scene looking west.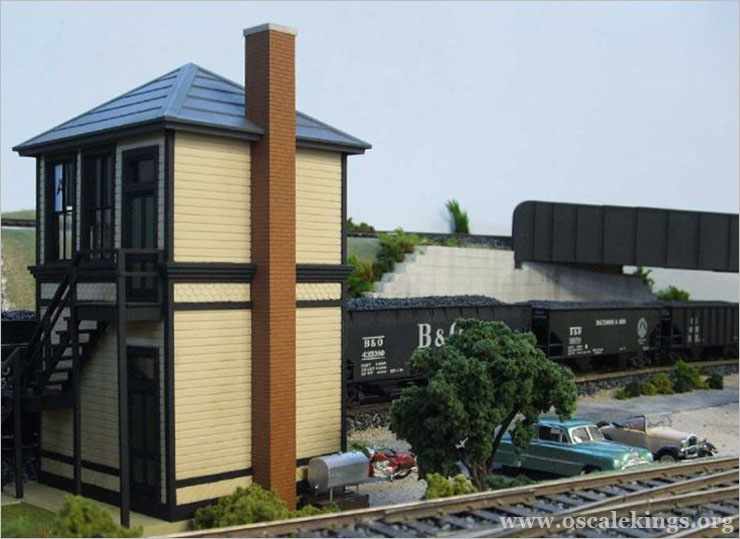 A long coal drag rumbles past "A" tower at the west end of Edgewater Yard.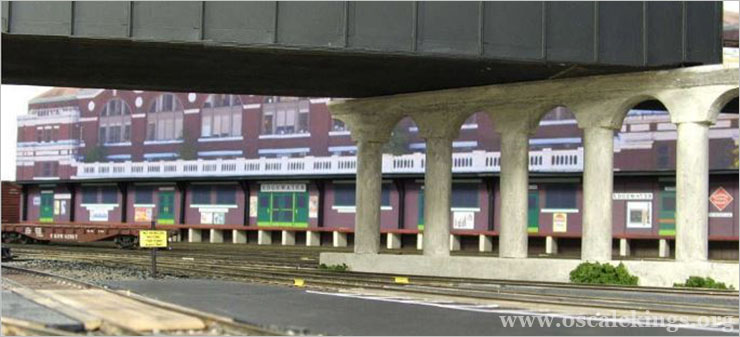 A quiet day at Edgewater, as seen from the Shore Road. The high level platform is a drop-in piece along the edge of the layout, in front of a photo mural of Vancouver BC Terminal. The station fronts along the platform were computer drawn and printed to fit.

SIRT 29 works the west lead of Edgewater Yard. The C&O boxcar was built in 2000 from aluminum castings made by Scale Model Railways in 1937. The panel side ATSF box was rebuilt from a Sun Coast 'junker' I found for $5.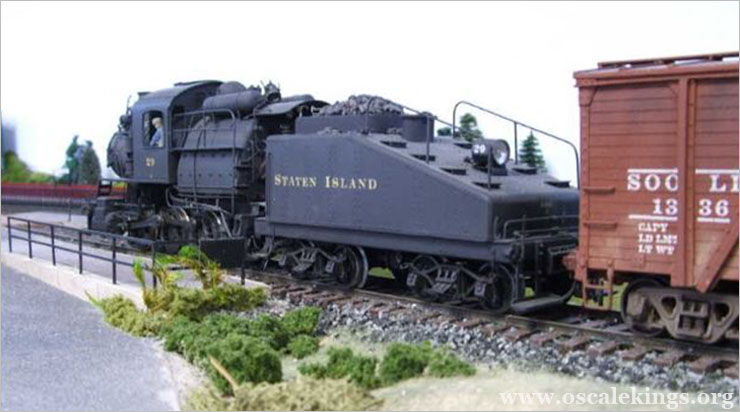 SIRT 29 awaits clearance for the main line at Rossiter Junction, after working the Endsville branch.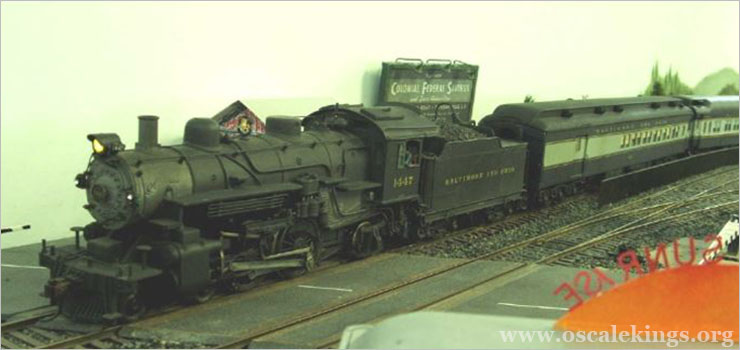 B&O 1447 makes a flag stop at Elm Park at the Highway 5 grade crossing, while on its way to Edgewater. The crossing was built to B&O standards and design for a bituminous concrete grade crossing of 1948.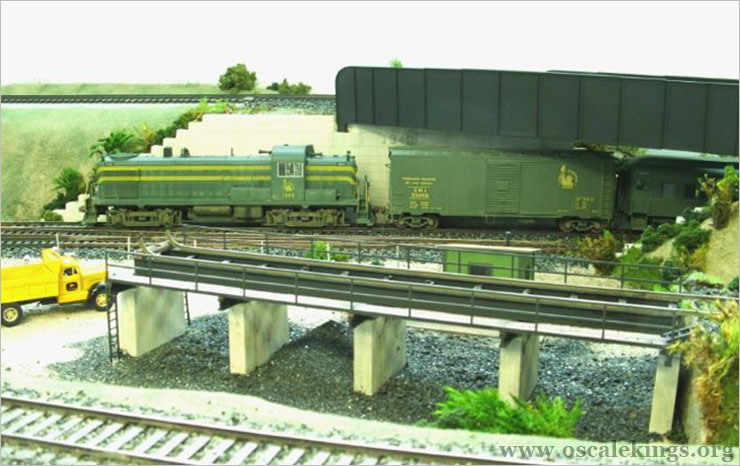 An east bound Jersey Central train with an express and three more passenger cars from Harrisburg PA.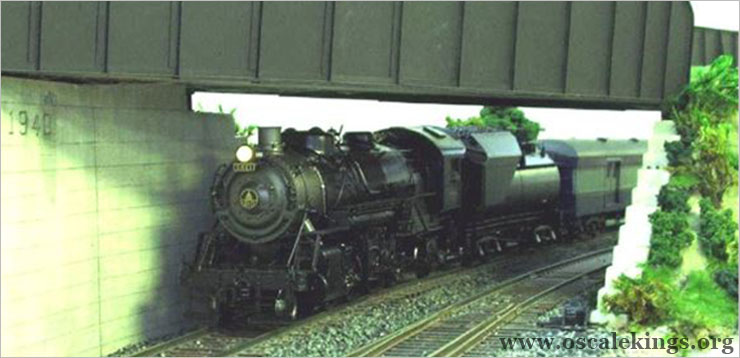 With a B&O Q-4b leading, the 'Metropolitan Limited,' rolls eastward on the B&NY. It was the B&O 'maid- of-all-work,' making every stop from St. Louis to Jersey City. B&O sometimes used the 2-8-2 locos in passenger work, substituting for unavailable diesel power.
An ancient Susquehanna & Chesapeake 4-6-0 hauls five car freight up the winding, 2% grade to Endsville and home rails at the wye. The plastic AHM "Casey Jones" loco was modified to look more like a B&O B-8 class engine, along with getting a heavier boiler weight and a more powerful 'can' motor. The S&C name is a takeoff on the Maryland & Pennsylvania RR. I lived near that line in York County PA during the early 1970s, when I bought and worked on this kit.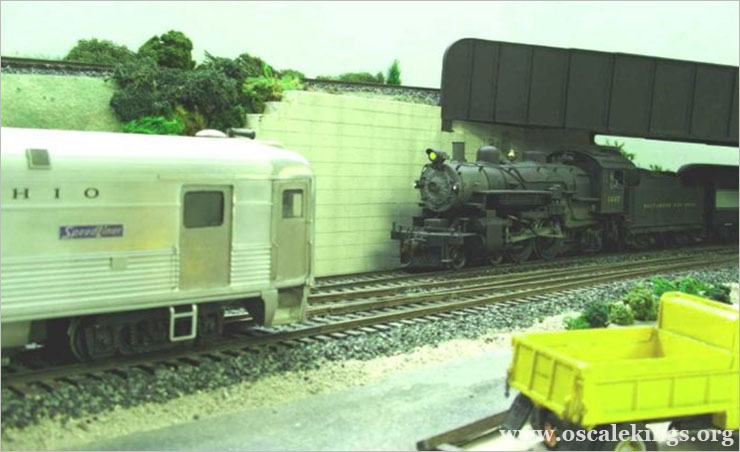 "Beauty meets beast," as the west bound Speed-liner meets an incoming B&O local with a Class A-3 4-4-2 on the point. The steam loco is a modified All Nation No. 5 kit and is equipped with a sound unit synchronized with the drivers.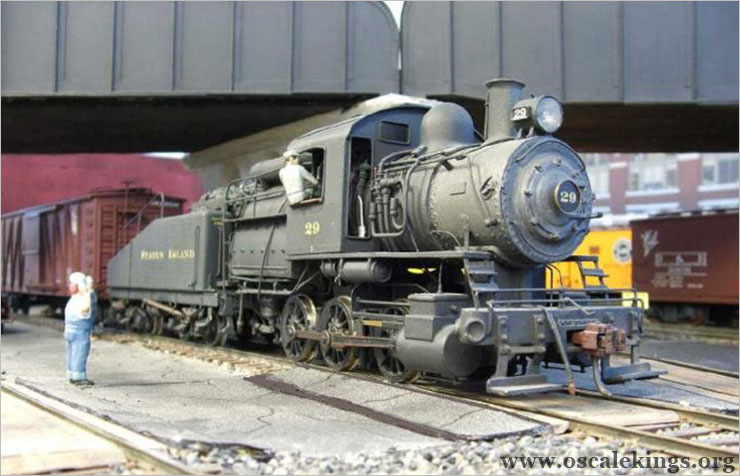 A boxcar load of supplies is dropped at the Edgewater Engine House Engine House. Camelback engineers often sat on the cab window sill rather than in the cab seat when operating these locos.
By: Edward F. Bommer, August 2016