Rebuilding a Bregler-Wolfer B&O twin-unit diner from 1983
The dining room car, Class F-11, Number 1094
B&O often found ways to use second hand equipment in a first class manner to accomplish its service goals. In 1956 it purchased two twin-unit diner sets from New York Central, which ran them in its Commodore Vanderbilt in New York to Chicago service. B&O overhauled and equipped them for Washington DC to Chicago service on its top train, the Capitol Limited.
One car contained a full service kitchen, dormitory space for 12 and two 2 berth rooms for stewards. The second car in each set was a full dining room and a small steward's buffet that could seat a total of sixty eight passengers. This piece will cover re-building and up-dating a 1983 wood and brass kit that was built with brass sides custom punched by Dick Bregler and built by Bill Wolfer. The owner asked to have the interior fully detailed with passengers and service crew, with LED lighting installed.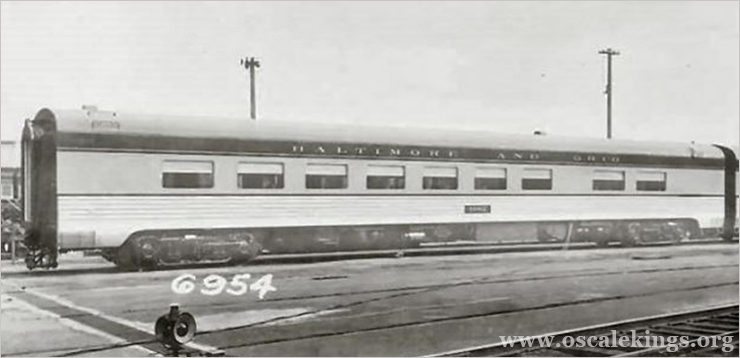 B&O dining room car 1092 at Mount Clare in 1956, shortly before entering service.
Like the kitchen/dormitory car, this unit also has kitchen table chrome edging used for the side fluting. Also the Pullman name on the letter board is incorrect, as B&O staffed the car. Again, full width diaphragms were not used by B&O in the mid-1950s. Further, B&O used window shades in place of Venetian blinds on their dining room cars.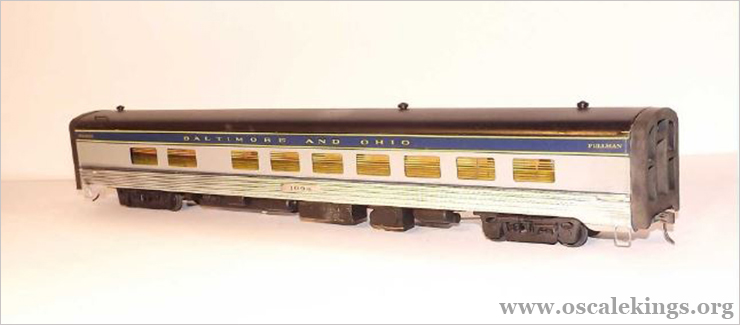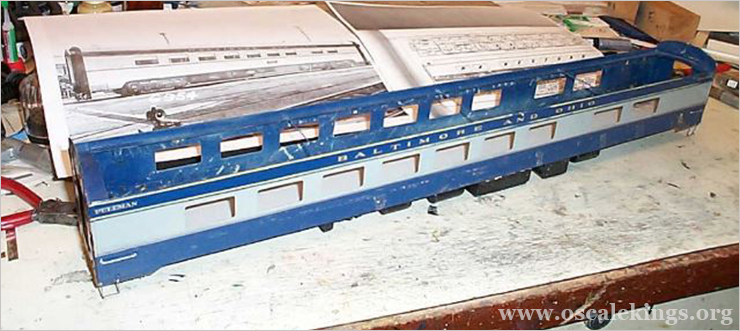 The car was disassembled, the chrome edging removed and the brass body stripped of all paint. All solder joints and body stays along the top sill line were checked and repaired where needed.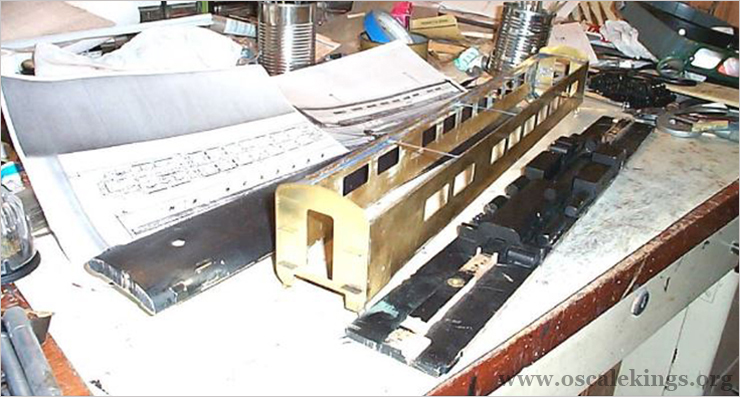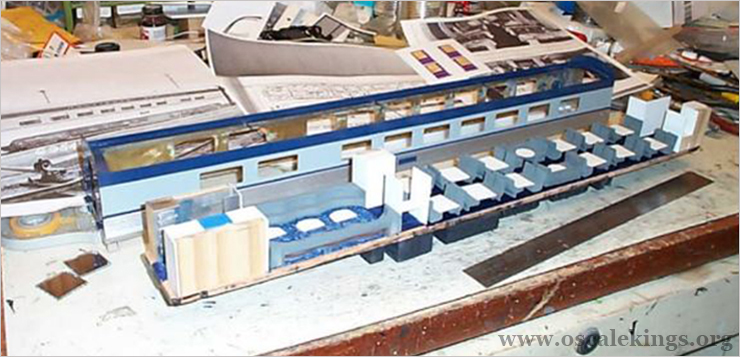 Fast forward now, as the process is the same as for the preceding kitchen / dormitory car. The body has been painted Scale Coat B&O Royal Blue and B&O gray. The fluted siding made from Evergreen styrene corrugated metal siding in two widths has been applied. At this point, the interior is being made up. Photos of the prototype interior B&O installed were a useful resource as it differed from the décor and treatment New York Central had used.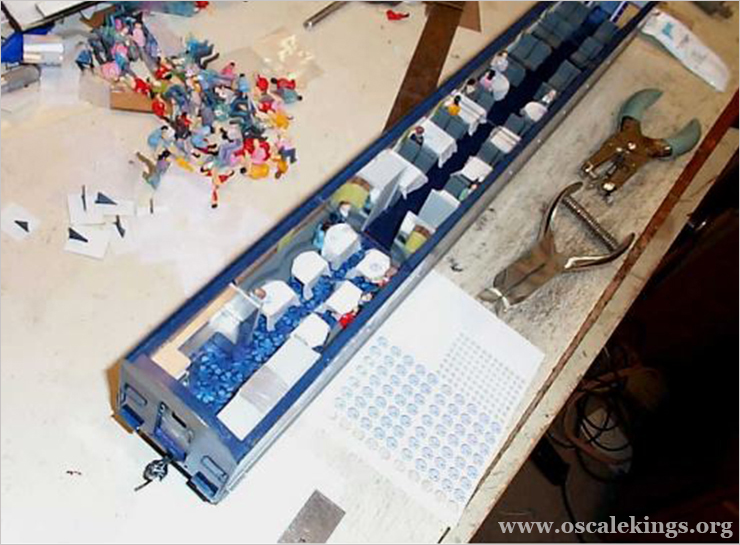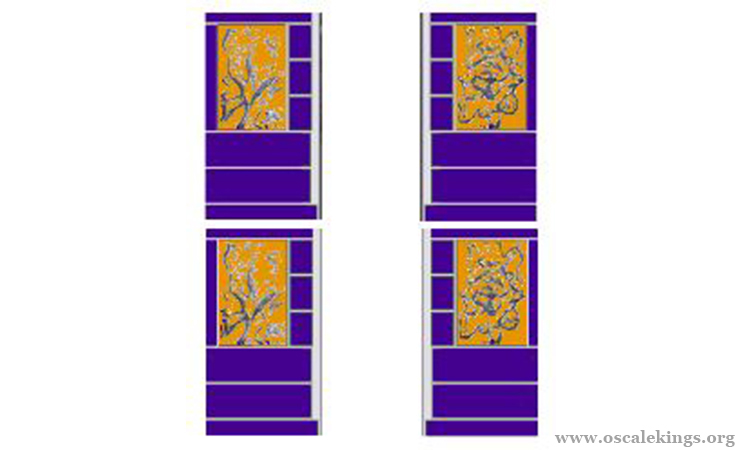 Interior wall panels for the main dining room were done in blue leather with copper decorative plaques. Taken from a prototype photo

Image Menus, computer printed to scale size from the scan of a B&O menu.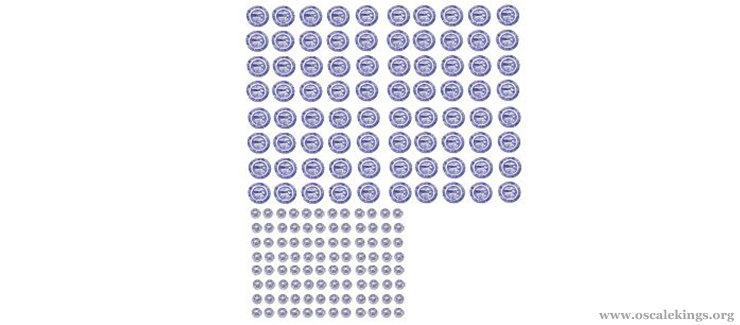 B&O dishes and saucers computer printed from scans of B&O china. White beads were used as cups. Short pieces of thin, clear plastic rod are glasses.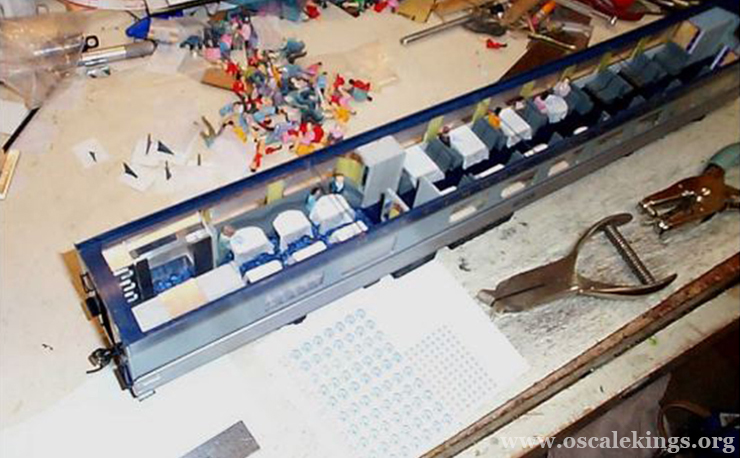 The curved banquette seats in the buffet area were carved from MDF. The tables are matt board card stock with tissue tablecloths fitted upon them, held in place with double stick tape. The dining area chairs were scratch made from wood strip stock on a table saw. It was the only way I could get modern looking chairs for the car. About 3' of it was cut. It took four tries to get it to come out right! Below, the full interior and LED lighting on the ceiling.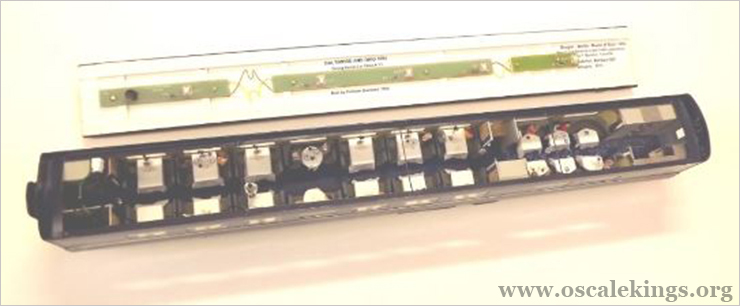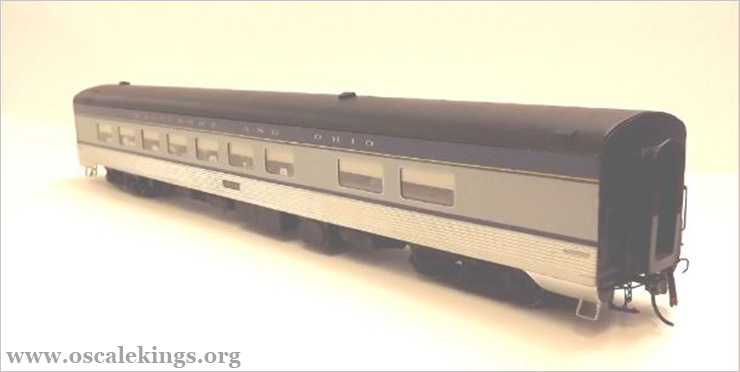 The completed, rebuilt dining room car. This end with two windows together is the steward's buffet end, which is to be coupled to the pantry end of the kitchen/dormitory car. To help keep both cars in correct order, a small letter 'K' was decaled in the lower corners of the car ends for the dining room and kitchen/dormitory cars to be coupled together. Below, the opposite end.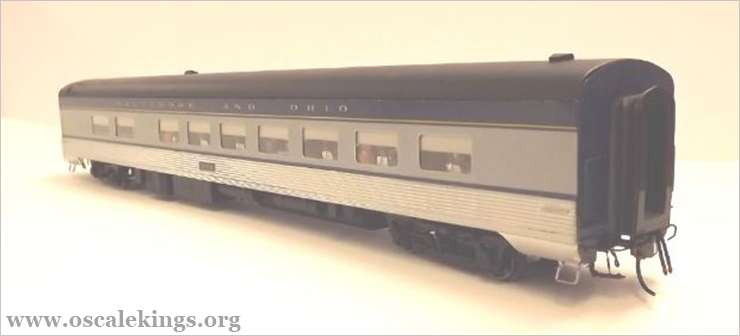 Together again at last! The rebuilt B&O twin unit diner being test run on a large O scale layout in Sherman Texas, before sending it to the owner.
Dining room car completed December, 2012. This article written by Edward F. Bommer July, 2016.