B&O C-16 0-4-0-T 1951 Dockside Switcher
An International Models 0-4-0-T of 1951 Gets a Make-Over
The B&O C-16 0-4-0-T is perhaps one of the most famous and most modeled locomotives of all time in just about every model scale and gauge.  There were only two prototypes but many thousands of models of this little loco have been made, often called a 'docksider.'
B&O bought four of them from Baldwin in 1912. Thoroughly modern, they had piston valves, Ragonnet power reverse and burned fuel oil, rather than coal.
Cylinders were 19×24 with 46" diameter drivers, operating on 180 pound steam pressure. They weighed 120,000 lbs., developed 28,000 lbs. tractive power and were numbered 96-99.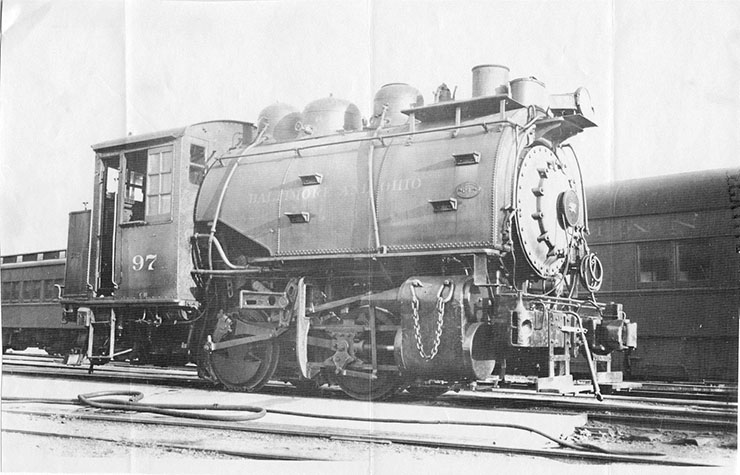 B&O 97 at Mount Clare Yard, about 1945. Note a drag chain hanging on the cylinder.
B&O rebuilt two of them to burn coal and have tenders. These were class C-16a, numbered 96 and 99. They were re-equipped with 48"diameter drivers and assigned to Philadelphia. Both were scrapped as WW II ended.  Thomas Industries made a 17/64"/foot "screwdriver assembly" kit for this loco in 1952 and Max Gray also imported this model in O scale about 1953.
Over the years, more models of this small locomotive were produced and imported by Precision Scale, Right of Way and Sunset. Some were three rail and many were two rail O scale. Each had their own approach to detailing, each also had their flaws as well.
Farther along, we will look over a restoration and re-detailing of a 1951 International Models B&O C-16 0-4-0-T, which in spite of its short comings, can still be a presentable model.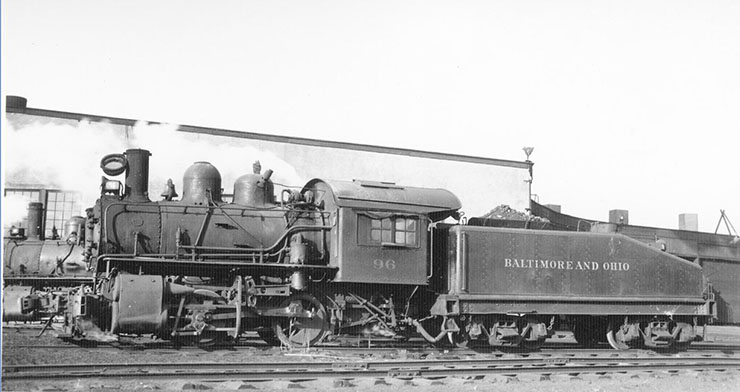 C-16a B&O 96 at Philadelphia in the late 1930s. Note the flip-over cinder screen on the stack, for working in confined industrial areas.
Remaining in Baltimore were C-16 numbers 97 and 98. They worked at Mount Clare Yard by day and the Pratt Street line by night until their retirement in May, 1951. By then renumbered 897 and 898, B&O shopped and cleaned them up for sale, but there were no buyers. They were cut up for scrap at Mount Clare. Still, their memory continues to this day in the many models made of them.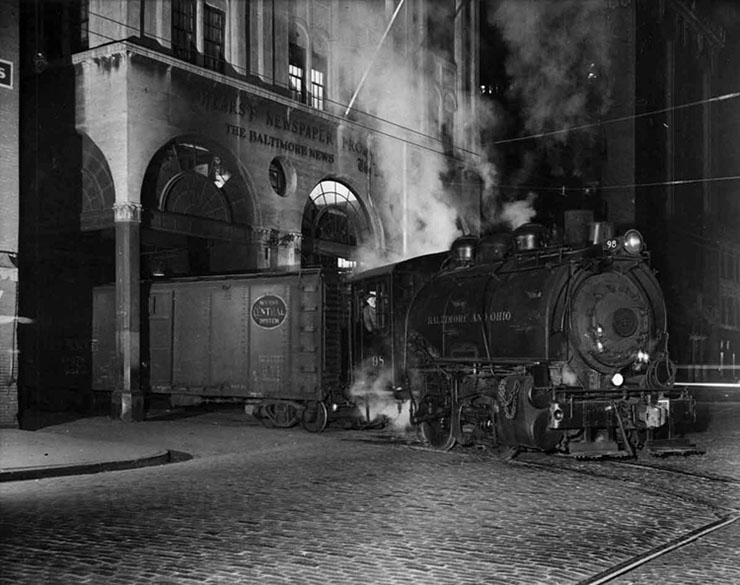 B&O 97 delivers a carload of newsprint for The Baltimore News in 1948.
Sixty-five years ago in "O Gauge model railroading" (as it was called then), imported brass locomotives were new on the market. Most were products of Occupied Japan, following the end of World War II.
Powering them were large AC/DC wound frame motors, with manual switches mounted on the locomotives to reverse them. They could be made to operate either on outside third rail, common in the 1930s for O scale operation, or with the newer 2 rail technology.
The current used at the rails could be either AC or DC, depending on the kind of transformer or power pack one used. Some clubs used 32 volt Pullman car storage batteries with step-down transformers and rheostats to power their layouts. A generator driven by an electric motor was used to recharge the Pullman car batteries. High amperage power was needed to handle heavy, rather poorly rolling car kits and scratch built equipment of the day.
So this little steam switcher imported by International was built for the market of its day. For its small size it's remarkably heavy. It has a cast iron weight that takes up almost half the volume of the boiler. It was equipped with a large, wound field AC/DC motor in the cab to drive it, with a worm and gear train mounted in its frame. The drivers are fully insulated and have contact wipers, making the body isolated from track voltage.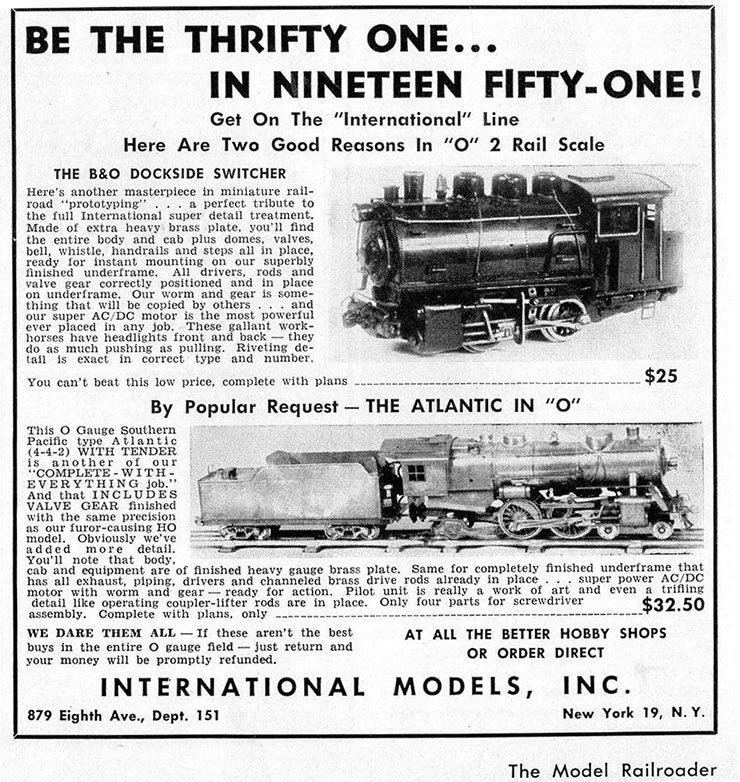 That $25.00 price in 1951 was not so cheap as one might think today. Newspapers cost a few pennies, gasoline was about 18 cents a gallon and a 1 pound loaf of bread at my Dad's bakery sold for 15 cents. However International was a low-end importer. Max Gray was also coming on the scene. Gray offered an imported brass B&O C-16 class 0-4-0-T for $45.00.
The January 1951 ad for this locomotive shows a pre-production pilot model. It lacks foot boards on the front and rear, along with a fancy paint job. In reality, these models were sold unpainted, as with the 4-4-2 also shown in the ad. The 0-4-0-T would have foot boards on both ends.
This International 0-4-0-T was built to17/64" to the foot scale. That makes 1.5" O gauge track more accurate for modeling 4' 8 1/2" standard gauge. However the drivers on it are about 4" too small in diameter. This may have been done to keep the total height lower than that of a boxcar. The prototype drivers were 46", the model scales at 42". Max Gray's B&O C-16 similarly built in brass was closer to ¼" to the foot scale and had accurately sized drivers, making it a more desirable model though notably more expensive.
I purchased an International Models B&O C-16 on Ebay late last year. It was all original except for the headlight castings which were from All Nation. It had a heavy coat of soft, black paint and some vestiges of B&O decal lettering, carrying number 97. It suffered a beating in transit so some of it had come apart. The model was disassembled and all the old paint was stripped off. All unbroken solder seams were checked. Those found to be weak or poorly repaired were taken apart. Here is what the model was like at that point.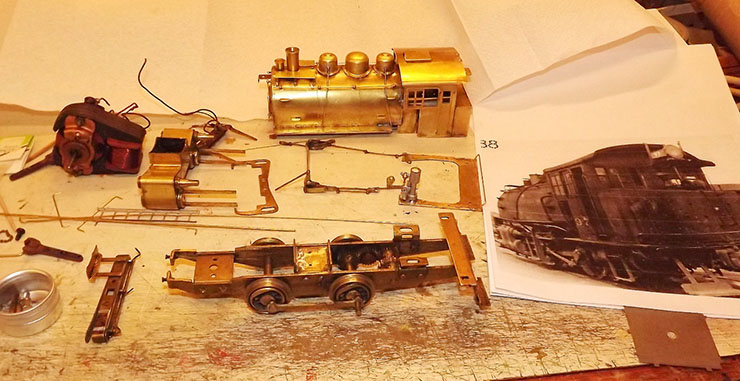 Some brass rod and ladder stock is also shown. They will be used to improve and add more details. The air compressor casting looks odd, but is remarkably like the original 1912 compressor, which was changed on the prototypes during their service life. That AC/DC motor took up a lot of space in the cab.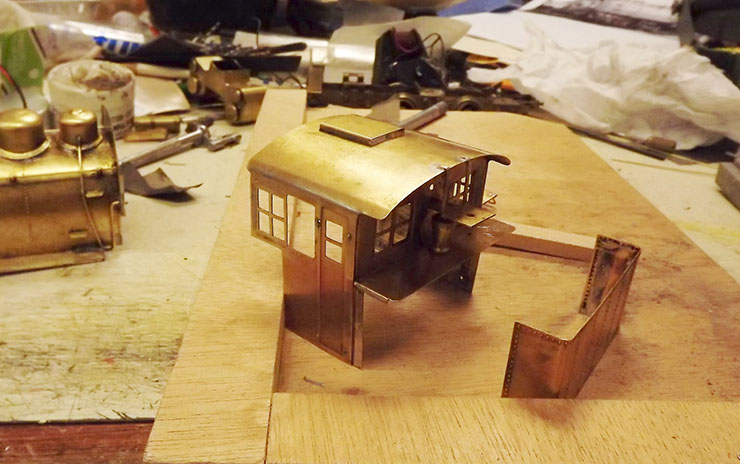 Careful checking revealed that the cab was not square to the boiler and fuel bunker, so they were taken apart as well. The cab and fuel bunker are on a wood soldering jig with an accurate 90 degree angle, to assure that the cab and bunker will be square when reassembled.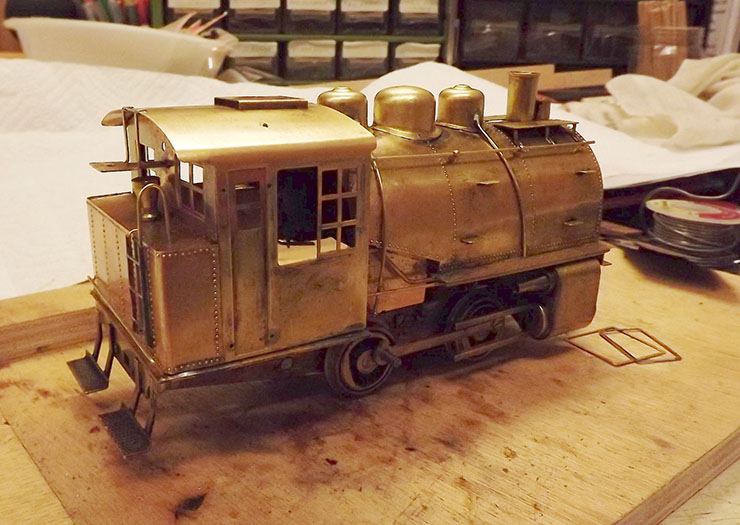 Here the re-assembled cab and fuel bunker is test fitted to the frame. A new, scale sized handrail was made for the tail beam. A ladder and hand rail was added to the fuel bunker. The thin brass cab window frames in front of the model will be sweat soldered to the cab again, as they came off while putting in smaller diameter, scale sized cab door hand rails. The boiler seems to sit too low over the cylinders as well.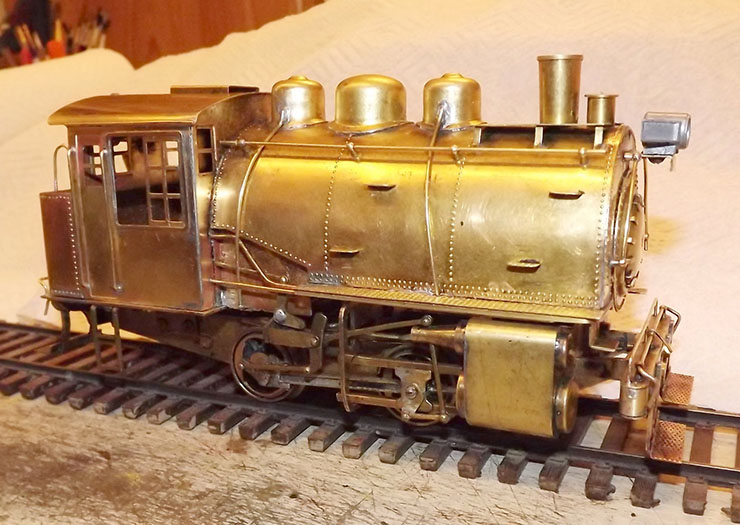 The front pilot beam on the original loco was set in too far, being directly under the walkway steps. It was moved farther forward with longer mounting screws having sections of brass tubing over them for extensions. Barely noticeable, the boiler sits a bit lower in the front than in the back. It will be shimmed up with a piece of styrene between the cylinder chest saddle and boiler.
The All Nation head lights on each end while not original, are fairly close to what the prototypes had. The drivers have very small counterweights which makes them more noticeable. They will be given larger, thin brass counterweight inserts to bring them closer to prototype appearance.
These drivers are insulated on both sides. Wipers set into the frame between them provides the electrical contact and makes the body of the model isolated. With that, metal couplers can be used without the possibility of a short circuit when coupling to a car having metal couplers.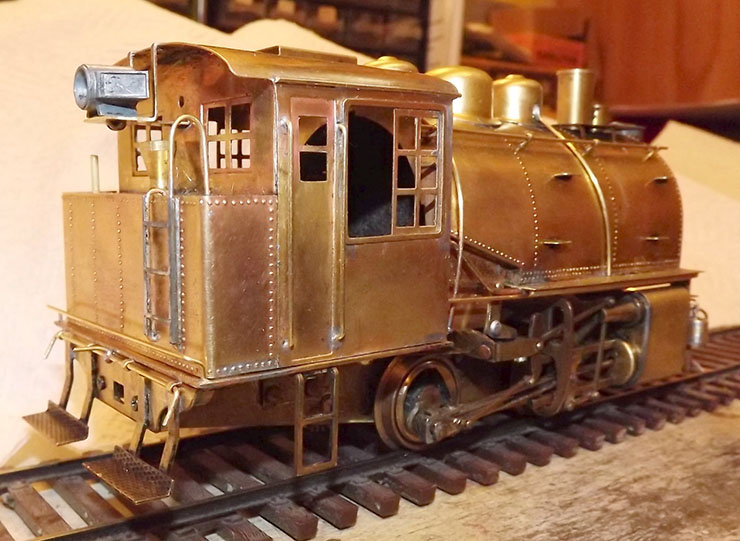 Uncoupling rods, rain drip rails and a fuel level dipstick tube have been added to the back end. The cab floor mounting was refitted so it can be removable from the loco frame and the boiler/ cab body. New coupler mounts for each end will be made in brass, as the cast zamak originals were brittle and decomposing with age. This model is 65 years old!

Although the model is 17/64"/foot scale, it is still smaller than the ¼"/foot scale box car.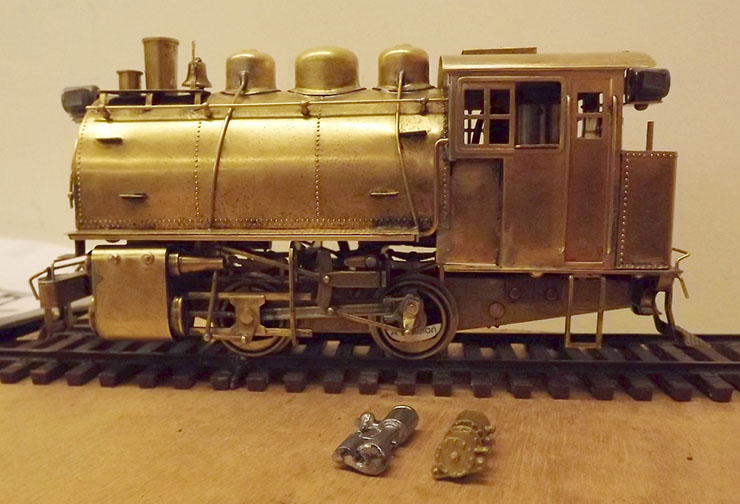 Here, a replacement Precision Scale air compressor lies next to the original part, cast in soft metal. It will be mounted to be removable in that recess in the cab wall, along with some piping detail. Why make it removable? Well, it's so the walls behind and around it can be more easily painted! Arm rests have been added to the cab windows and a card stock pattern is trial fitted on one of the drivers to enhance the size of the counterweights.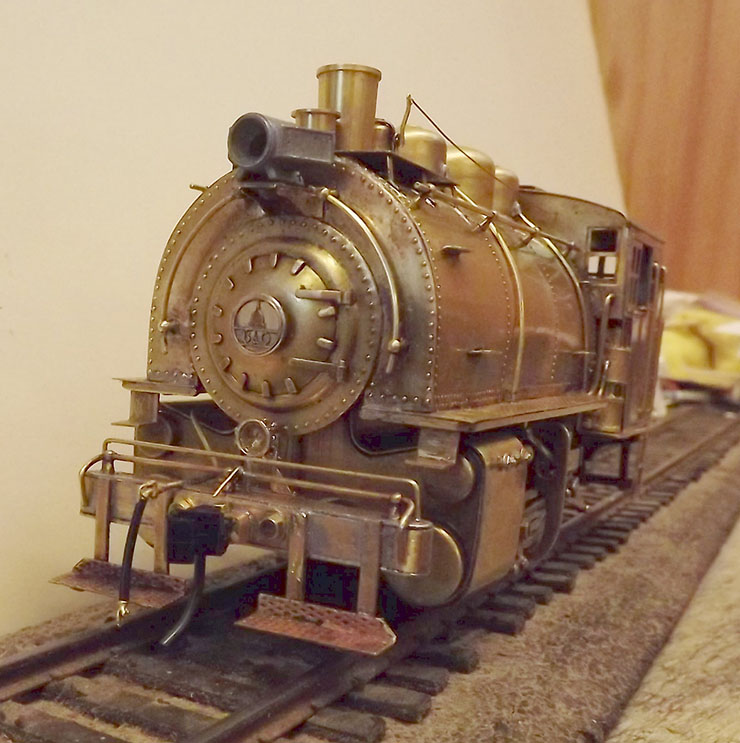 More details! A new smokebox plate with a Capitol Dome herald was soldered over the small original number plate, which was threaded into the smokebox front. Short pieces of brass rod were fitted to become pins in the smoke box door hinges.
The new brass coupler mounts on each end are identical and are mounted with 0-80 hex head screws. They fit into the original mounting holes which were re-threaded from Metric. A small, low mounted automotive type headlight was on these C-16 locos during and after the WW II years. No need for bright headlights anyway, working the confines of Pratt Street and its environs at night. The one shown here is a Precision Scale part.
A missing lever was replaced on the bell, along with the pull cord. The bolts on the cylinder jackets were provided with short tubing extensions like the prototype. Drag chains for hauling cars on curves too tight for couplers were hung on them. And let's not forget to put an air hose on each end. I also added a piece of brass channel to represent the seam flanges of the cylinder castings.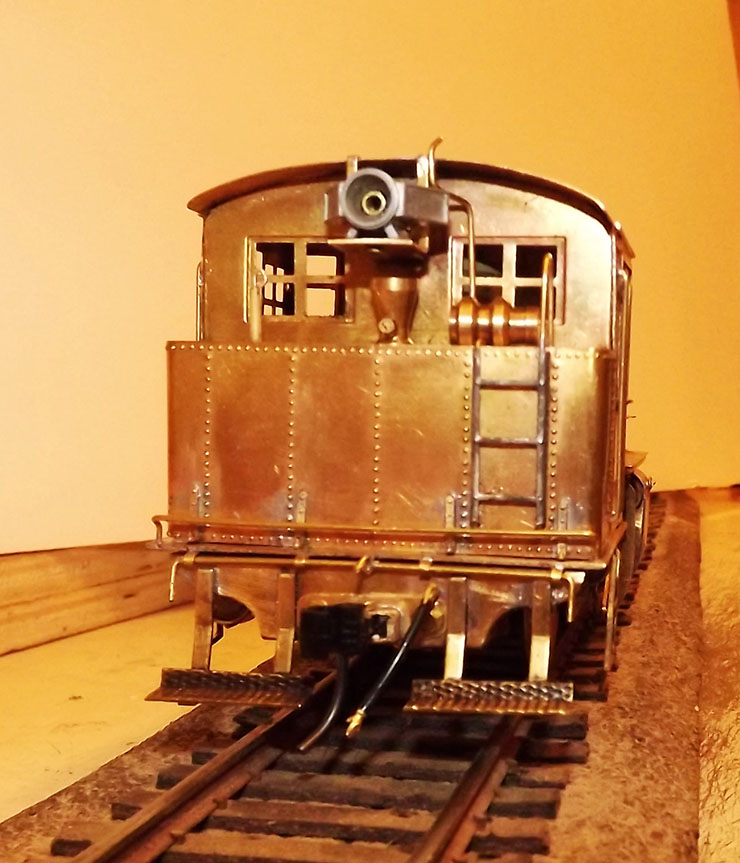 The back end also has added details. They include fuel bunker stays, air hose, exhaust stack for the original turned brass generator, a fuel dip stick, uncoupling rod and a valve at the base of the fuel filler. I kept the original generator rather than replace it. After all, this is still an old model. Also, it's in a location where a lot of detail would not be that noticeable.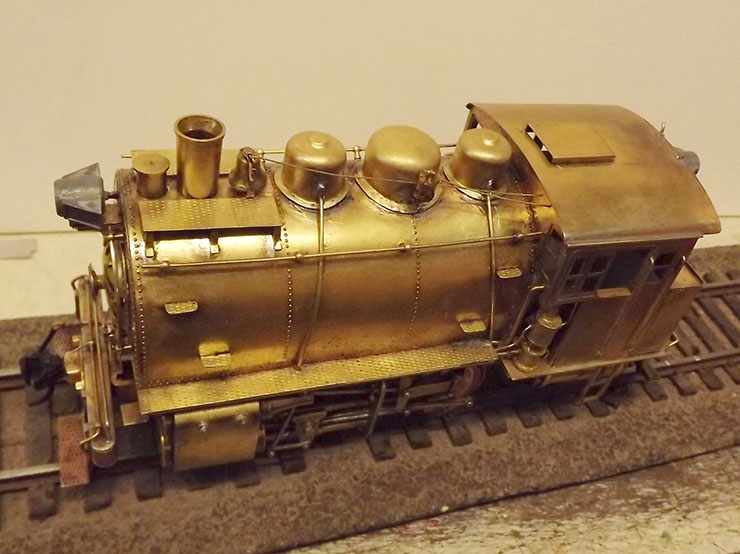 Ah yes, the whistle! Not on the original model and for some years not on the prototypes either, although they were delivered with whistles. The City of Baltimore, known over the decades for some odd traffic laws, at one time forbade the use of steam locomotives on the city streets. B&O trains from Washington DC to New York until the 1870s were hauled by horses, one car at a time along Pratt Street to reach the tracks going north.
Later on, small steam locos for freight deliveries could be used in streets, but blowing the whistle was forbidden. My guess is that it would be confused with grade crossing signals, causing road traffic to stop and bunch up. So only the bell could be used for traffic warnings, much like the trolleys.
Whistles were put back on by the 1940s. Photos show a valve installed under them. That way, they could be turned off when working the streets at night yet be operational in Mount Clare Yard by day. Having a shut off valve prevented accidental whistle blowing at night, with any resulting traffic fines laid upon the engineer.
I used a whistle I had on hand. Near the end of their service lives the prototypes had a 3 chime freight whistle. Mine is a 6 chime passenger whistle. For me it's close enough for what I'm doing here. I also included the shut off valve for it.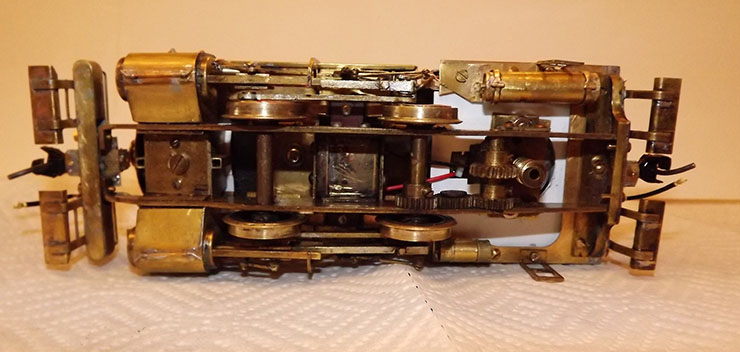 In case you wondered what it looks like underneath, here it is. Cylinder cocks and related piping have been added. The large white area is a styrene floor fitted in to the cab. There is also a section of boiler made of styrene and fitted to go around the vertical can motor in the cab. These were put in because the original was open at the bottom. When looking into the cab, one could see the roadbed and track under the loco. The cab area will be semi-detailed later. Some of the styrene cylinder saddle shim for the boiler can also be seen.
A small Swiss made can motor as found that had the same diameter shaft as the original AC/DC motor. So the worm gear was removed from the old motor and reinstalled on the new one. A new .040" thick brass saddle was made to mount the new motor in the same location as the old one. It has slots to allow adjustment of the worm and drive gear mesh. Two air reservoirs were installed, each with a mounting plate to make them removable. The drivers, while installed on solid axles through the frame, are held in place with set screws on their backsides, making them removable as well, if necessary.
These old drivers have brass tires. To operate well, they need to be kept clean and free of oxidation. Ditto for the contact wipers above them. This is one of the down-sides of old model locomotives. While steel tires might be better, I do not have the capability to make new tires so these will need to suffice. But regardless of what material model driver tires might be, they all need to be cleaned now and then!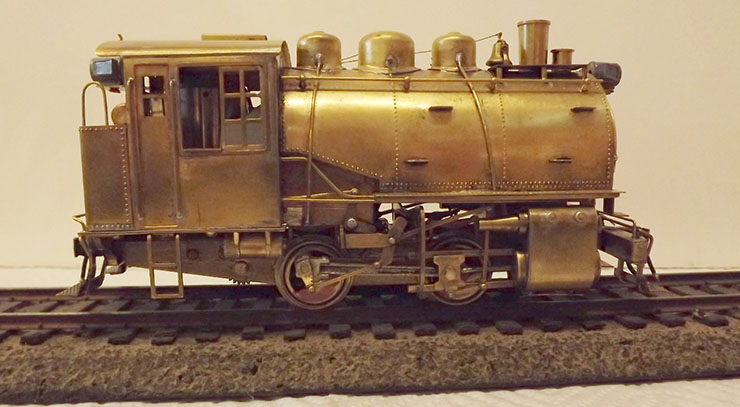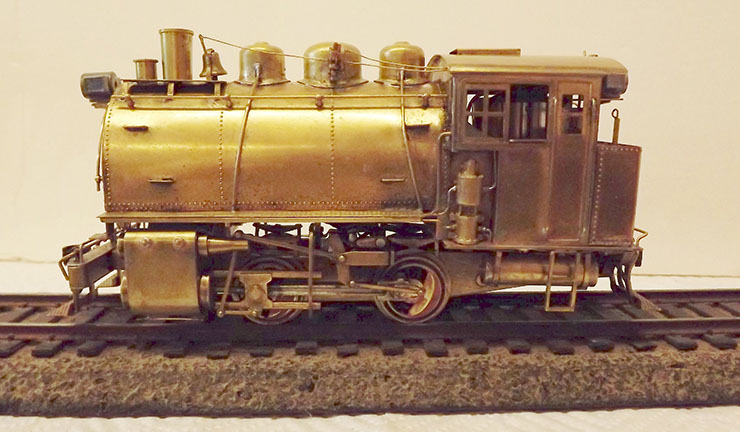 Right and left sides of the rebuilt model, now ready for the paint shop and lettering. There is some distortion showing here. It is from my camera, when taking close-up photos.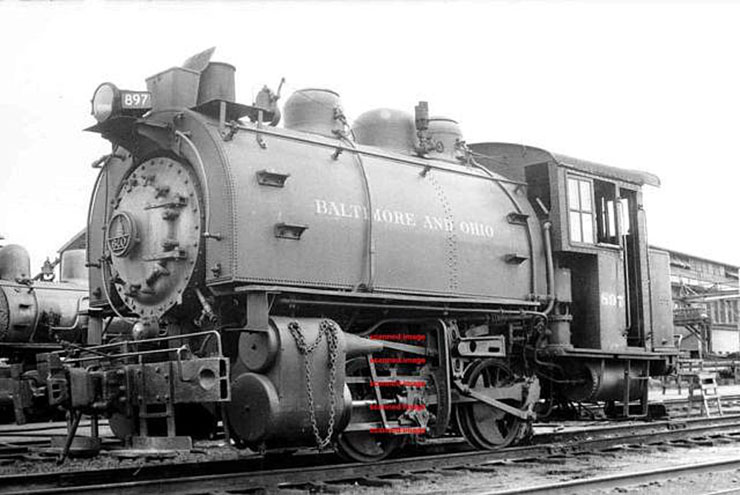 B&O 897 (formerly 97) in 1951, looking good but the end is near! It has a new rectangular water filler and lid.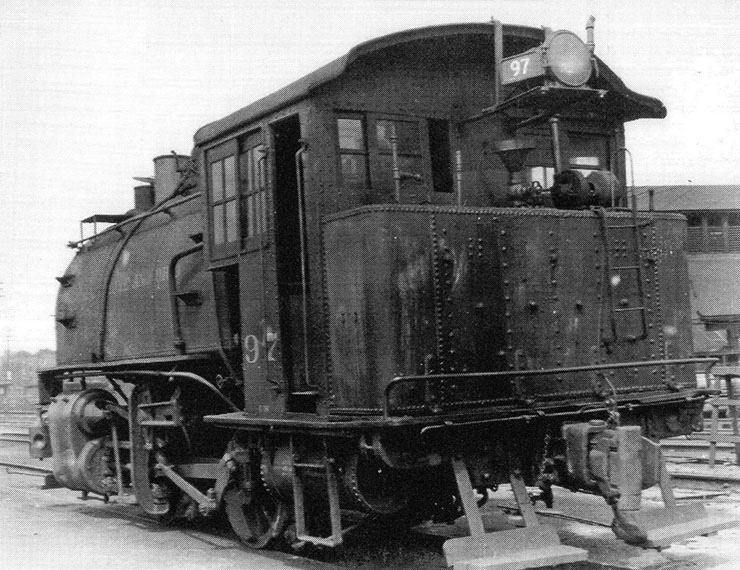 B&O 97 in the 1930s. That extra deep coupler knuckle was handy when working over uneven track.