B&O 60′ Railway Post Office Car #48
An American Standard Car Company Rebuild
Mr. Ralph Brown's American Standard Car Company produced an excellent line of O scale kits in cast resin, wood and metal castings for heavyweight passenger equipment in the 1980s and 1990s. These kits could build into great looking models, with a bit of care and attention to the details. They set a new standard in O scale and these cars are still prized in the 21st century.
Yet not all the car kits Mr. Brown produced were built. Some are still around as kits, ready to be given their destiny of life on a layout. A few American Standard cars though, might be found that are in need of rebuilding. This essay is about one of them, that was American Standard Kit Number 1601 for a 60' railway post office car.
A fellow O scale modeler sent this to me to see if it could be rebuilt as a B&O RPO.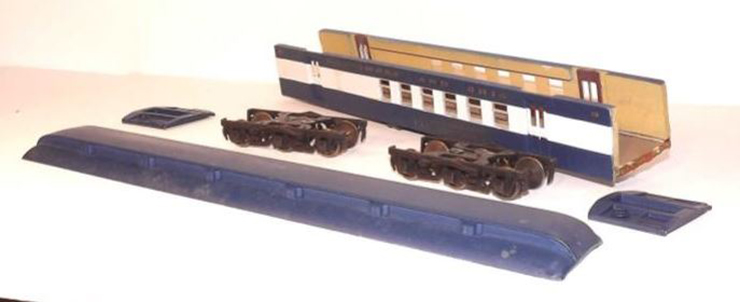 With the parts were a pair of new Golden Gate Depot 6 wheel 'Pullman' type 2410 trucks.
At least the basic parts are all there and inspite of appearances they are quite salavagable. Simply take the sides off the floor to fully "re-kit" the car and begin anew!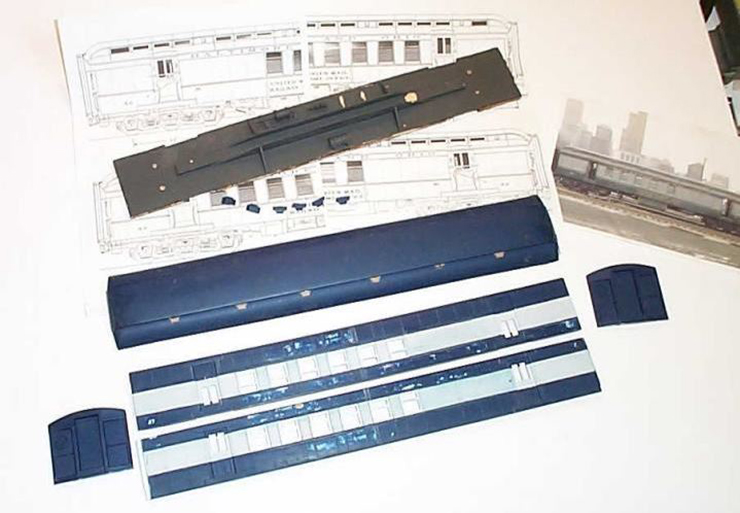 Having photos and a diagram for a B&O RPO helped. The kit though, is for a 1920s Pullman built 6 window car, whereas B&O's "newest" 6 window RPOs were built by ACF in 1926. The ACF cars had taller side windows than Pullman usd. But I was told to proceed in making this as a B&O car. So I gave it the highest number (48) of a similar looking B&O RPO of the latest (and last) Class H-11.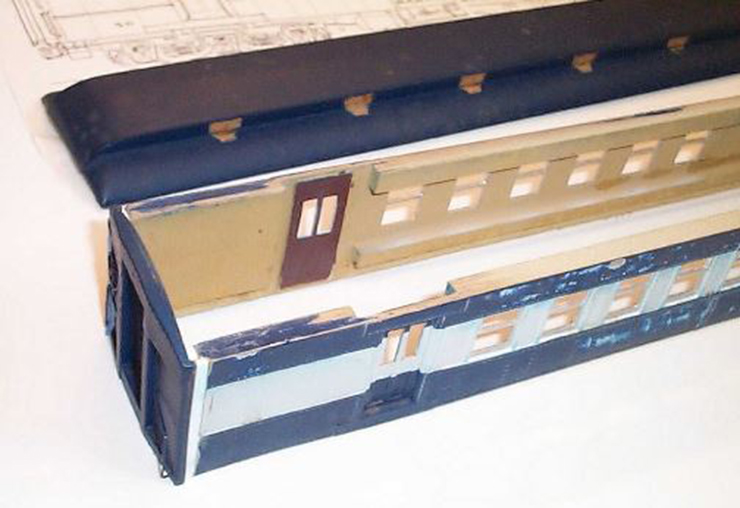 The first order of business was to make certain that the ends and sides of the body would come out square and even all around. One side was found to have been cut too short somehow, skewing the body. Styrene strip inserts were applied to square up the body and also line up the doors and windows so they were direclty opposite each other and not offset. A test fit is made to check on the roof. It will need some trimming on both ends.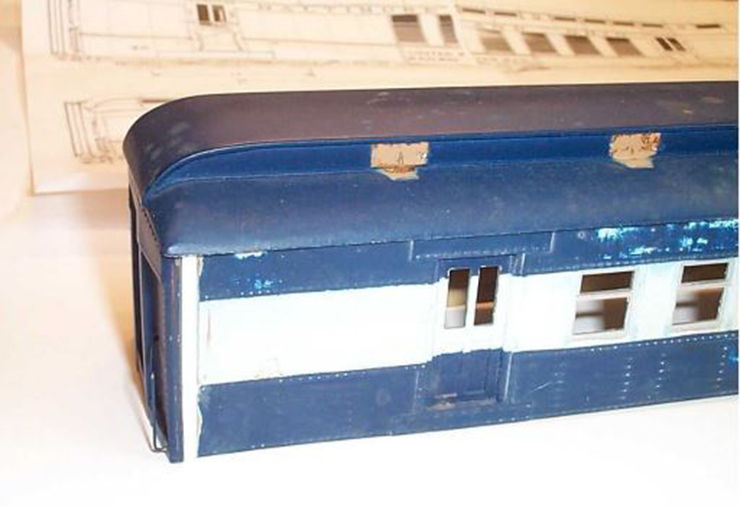 The original Garland vents were removed and the clerestory sides sanded smooth. B&O style Cyclone ventiators are being installed along with clerestory window panels. The last panel on each end is a screened window.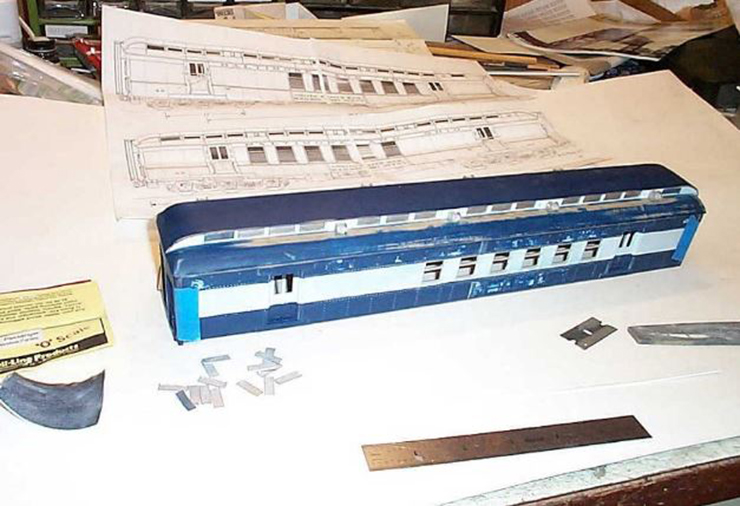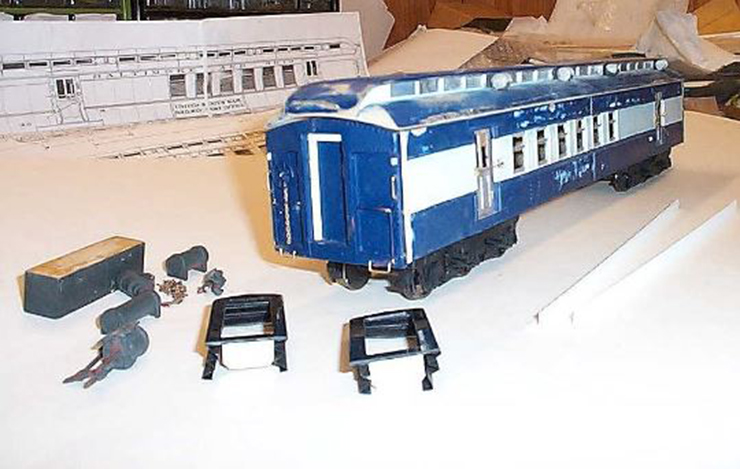 The car ends have framing around the doors, made with styrene strips. The diaphragms by Keil Line have been fitted with thin aluminum sheet floors, made from soda pop cans. Grab iron, hand rail and mailbag catcher details are being added. The underbody was given a new centersill and crossbears done in styrene, with the brake and other details relocated to follow prototype photos. New brass dooorway and corner stirrups were made and installed. Trucks were nounted and Kadee 700 seeries long shank couplers were installed.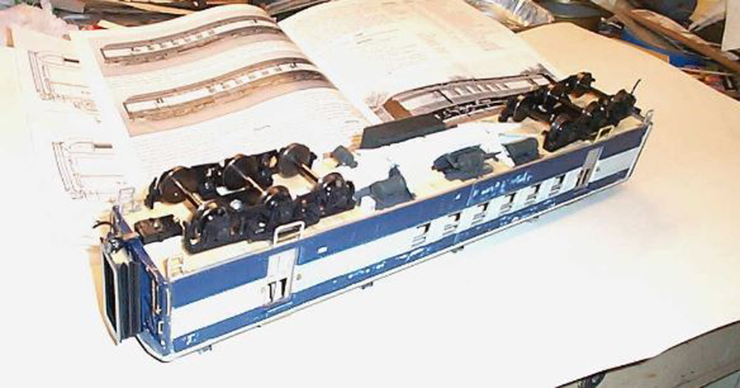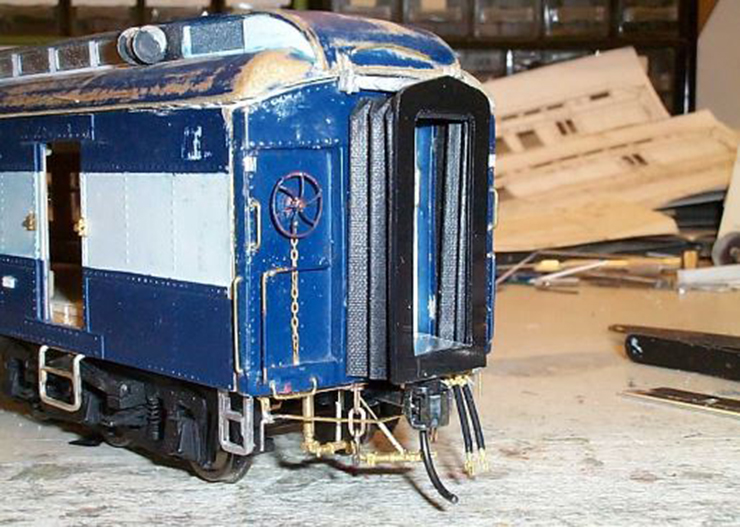 Car end details were not overlooked. Rain drip rails, diaphragm springs, brake chain, uncoupling rods, safety chains, end sill grab irons, steam lines and air hoses were applied to each end. The diaphragm is temporarily in place. It will be permanently mounted after the car is repainted.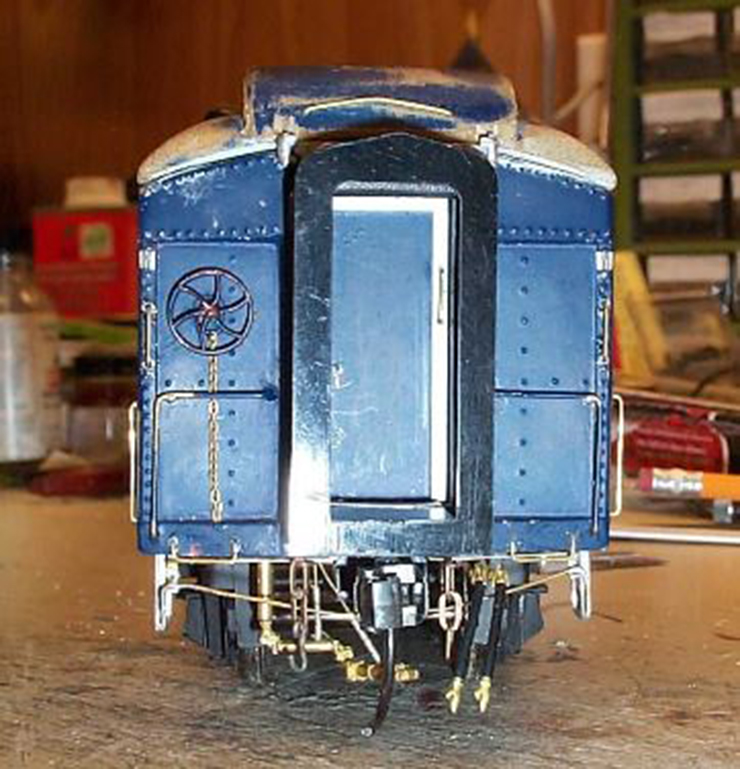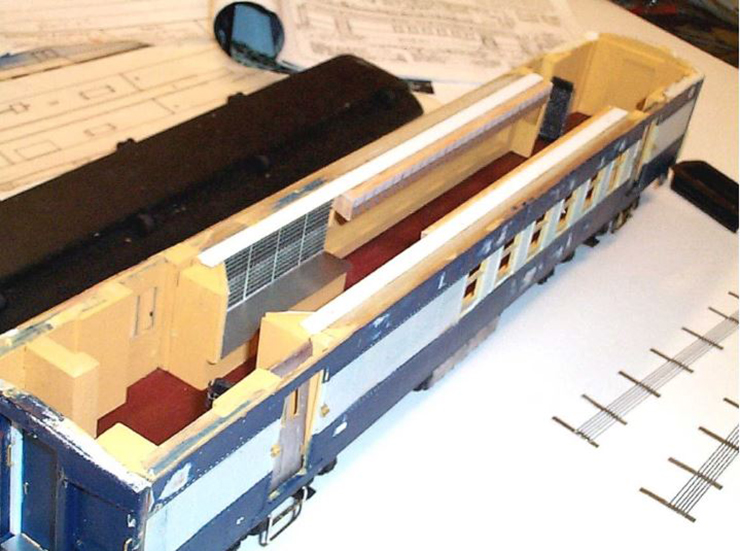 The interior was next. Sorting tables, benches, panels and racks were made from pieces of MDF, a heavy pressed paper product found at places like Lowes and Home Depot. Very easy to cut and shape for work and its cheaper than milled wood strips. The table top is polished thin aluminum soda can sheet. Sorting pigeon holes were copied and reprinted to fit from photos found on the internet. The security bars to be mounted inside the window glazing were made from brass strip and rod soldered together in a jig. The interior follows B&O painting practice for head end cars, with Tuscan red for the floor, golden tan on all walls and white for the ceiling.
This car was built with the roof permanently mounted to the car body after it was repainted and lettered, to help keep it square. Four screws hold the floor/underframe to the body, which can be lifted off to access the interior. A set of LED lights from Golden Gate Depot will be installed under the roof, with a micro-plug to detach them from wiring to the trucks.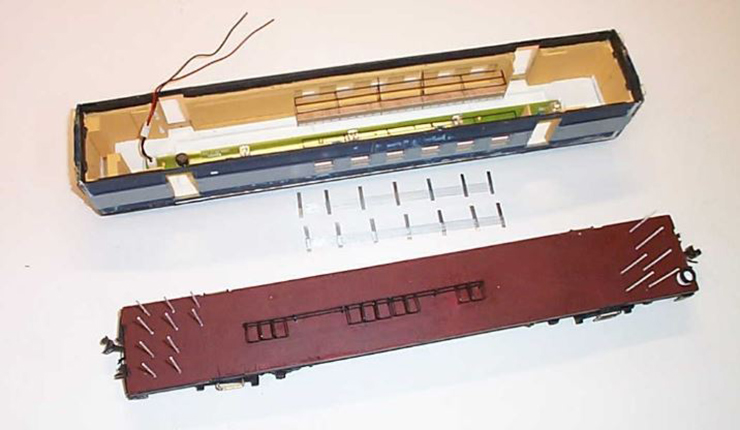 The floor details include a mail bag rack and poles made from .030" dia. brass rod and painted. The LED lights and wiring harness has been attached to the ceiling. Per USPS requirements, a toilet (on the floor) and sink (on a wall) are provided for the crew at one end of the car. Three standing figures were painted as RPO clerks and attached to the car floor. Since very little of the interior can be seen through the windows, this minimal detail was sufficient, without having to put mail bags on the sorting rack.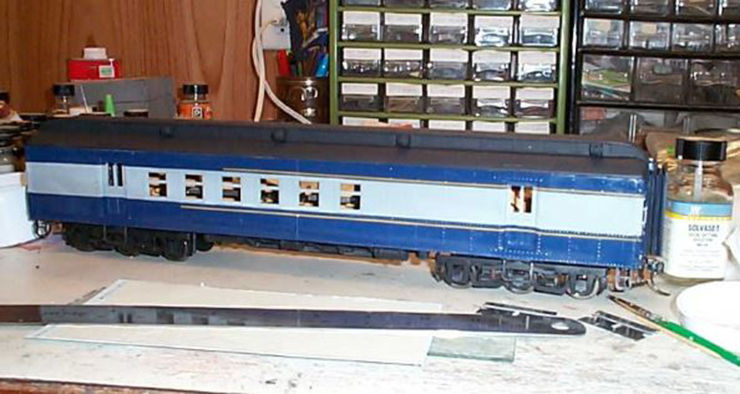 Paint and lettering were last. Flat black roof, underframe and trucks. Scale Coat B&O Royal Blue, with Scale Coat B&O Gray. This gray was not on the Scale Coat catalog list, but I got some while Weaver was making a run of B&O ALCo FA/FB diesel units. A close substitute is Scale Coat D&H Gray with a few drops of Pullman Green added to a 2 ounce bottle. Micro Scale B&O striping and passenger lettering is being applied. After that, the mail bag catchers and safety bars over the side doors will be re-installed. The finished job will get a dusting of Testor's Dull Coat before putting in the glazing and security bars over the side windows.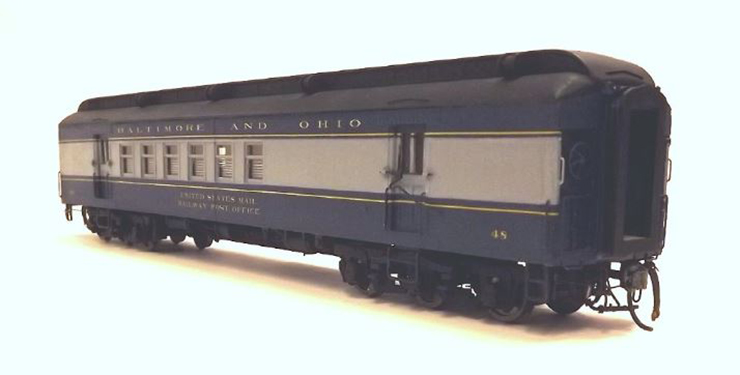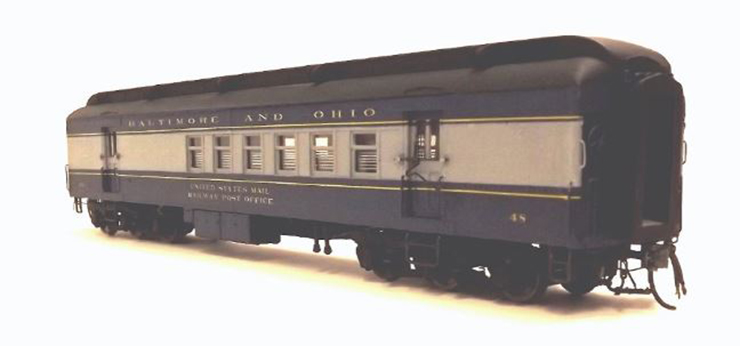 Fully rebuilt and re-detailed, the American Standard Kit 1601 is ready for the rails as B&O Class H-11 RPO number 48.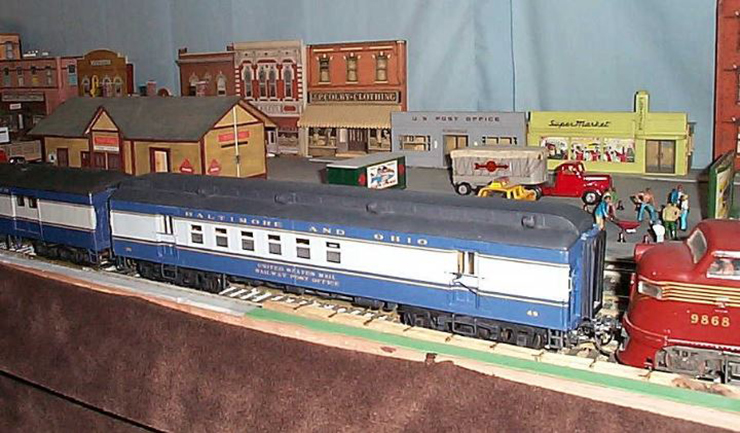 This included track testing and running with a train of other B&O passenger cars on a friend's layout in Sherman TX. Why the PRR power? He models the "Big Red" quite well. My B&O passenger power, a Westside B&O Class P-7c 4-6-2, was in the process of becoming a P-7e 5314 with number-specific detailing and a large 12 wheeled tender when this photo was taken.
Model completed October, 2012.
Photo essay by Edward F. Bommer, July 2016.