Clubs and Groups
The following is a list of organized clubs, museums, organizations and round robin groups. Some are formal and others are informal. Some are clubs with permanent layouts, modular layouts and home layouts or a combination of the before mentioned. We do our best to provide the best information available but we depend on you and associated members to keep the information current. We do our best to protect the privacy of those individuals requesting it but provide enough information to make contact.
The O Scale Central and the O Scale Trains magazine will be sharing club listings as a cooperative venture between OSC and OST. Watch for these same listings to be available in the OST magazine.
2-Rail O-Scale Organizations
The list is sorted by location.
International/National
Gauge O Guild
Contact: Glen Suckling, ConRep USA
tel: 315.529.6366
email: gog15102@twcny.rr.com
Website: www.gauge0guild.com
Venue: Worldwide
O Scale Central


O Scale 2 Railers



Contact: Bruce Blackwood
Tel: 410.635.8064
Email: bruce@oscalekings.org
Website: www.oscalekings.org
Venue: NMRA 1/48 O Scale, P48
National Model Railroad Association
 The National Model Railroad Association, Inc. advances the global scale model railroading community through education, advocacy, standards, and social interaction.
The NMRA.org website has a lot of information about model railroading including O Scale, P48 and other 1/48 gauge standards and recommended practices. This is a great way to start understanding NMRA benefits.
Membership includes access to additional resources and clinics and can include the monthly NMRA Magazine with information and articles for all scales.
One of the major benefits for model railroaders from the NMRA is organized activities and conventions at the National, Regional and Division levels. These activities provide information through clinics and layout visits as well as the opportunity to meet and talk with other modelers with similar interests. The additional personal contacts and friends in the hobby is a major benefit.
There are several ways to contact the NMRA:
Eric Peterson the NMRA O Scale Central Special Interest Group Coordinator
SIG coordinator:
Eric G. Peterson
12439 Pebble Knoll Way
Carmel, IN 48033-8236
(317) 947-4829
email: sigrep@oscalekings.org
NMRA Regions and Divisions are listed on the website. These listing for your area provide information on upcoming events as well as contact information for these local modelers.
NMRA Headquarters can be contacted for information about membership and other NMRA business related activities.
National Model Railroad Assoc., Inc
P.O. Box 1328, Soddy Daisy TN 37384-1328
Tel: 423-892-2846
Fax: (423) 899-4869
Email: nmrahq@nmra.org
Website: www.nmra.org
Venue: NMRA conventions and events including display layouts, clinics, sales tables and social interaction for 1/48 O Scale, P48, On3, On30 and all scales.
California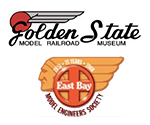 Golden State Model Railroad Club
Point Richmand, California
Address: 900-A Dornan Drive, Point Richman, CA 94801
Contact:
Tel: 510-234-4884 (Recorded Message)
Email: info@gsmrm.org
Website: www.gsmrm.org
Contact: Jeff Rowe, O Scale Trainmaster
Contact Tel: 925-786-9560
Contact Email: jhrowe@comcast.net; o_scale_info@gsmrm.org
Venue: Formal, permanent layout, NMRA 1/48, On3, HO, N
Description: The East Bay Model Engineers Society was founded in 1933 and ranks as one of the oldest modelling clubs in the nation. Our highly-detailed model train layouts represent prototypical scenery in Northern and Central California. We run both freight and passenger trains typical of the steam era through modern day diesels. Our three main modeling scales are O scale (1:48), HO scale (1:87) and N scale (1:160).
The O Scale layout is 4000 sq. ft., with four divisions in different levels, over 5000ft of hand laid track. We operate with either DC or DCC. Layout and signal control via JMRI. We also have an interurban electric line. The On3 scale layout occupies over 400 square feet of our building. It is intended to capture the flavor of the western mining and logging railroads. It also operates DC or DCC. The O Scale members generally meet on Friday afternoons and evenings for work projects.
We run trains every Sunday, April through December, from noon to 5pm. We are also open on Wednesdays (11 a.m. – 3 p.m.) and Saturdays (noon to 5 p.m.) for viewing the displays, but no trains will be running. We are closed Christmas Eve/Day and New Years Eve when those fall on regular open days.
Admission Prices: $5 for Adults, $3 for Children.
We offer a non-membership Annual Pass for Frequent Visitors to the museum at $29.00 a year for individuals and $45.00 for families. The Annual Pass provides free admission for 12 months to all our shows during our operating season April – December.
We offer a Free Trial Membership with one of the three scales (N, HO, O) for those interested in full membership. It is a time to get to know each other and see if there is a mutual fit. This period can last for up to 6 months until a decision is made whether to apply for full membership.
Dues for Full Membership are currently $240 per year for Seniors (over 18) and Families (up to 2 adults and 4 children under 14 living in the same household).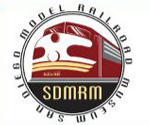 San Diego Model Railroad Museum
San Diego, California
Address: Balboa Park, 1649 El Prado, San Diego, CA 92101
Website: www.sdmrm.org
Venue: Permanant Layout, NMRA 1/48
Description: The Cabrillo & Southwestern is the O scale (1/48th actual size) model railroad being built by the San Diego Model Railroad Club. It is a freelance model of an imaginary prototype running between San Diego and Sacramento. The layout was redesigned in 1986 and is being built in place, section by section, giving visitors a first hand view of model railroad construction. The layout features a electric trolley line which actually receives power from the overhead catenary system. There is also an operating brass sculptured water fountain in front of the main terminal. The San Diego Model Railroad Club (O and HO Scales) meets Fridays at 7:30 pm in the Museum.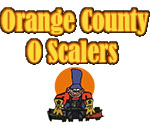 Orange County O-Scalers
Santa Ana, California
Contact: Tommy Thomas
Email: oscalers@gmail.com
Website: www.orangecountyoscalers.com
Venue: Modular Layout, NMRA 1/48
Description: Orange County O Scalers (formerly the Modular Division of the Citrus Empire Model Railroad Club) sets up layouts at various events throughout the year, mostly in the Southern California area. We have no dues, no offices and no officers, and are self-supporting through revenues we receive from the events. Although we have recently expanded, membership remains open.
Colorado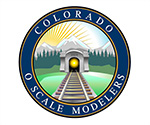 Colorado O Scalers
Denver, Colorado
Contact: John Johnson
Tel: 303.678.9527 8AM-8PM
Email: johnsjp48@gmail.com
Website: www.coloradooscale.org
Venue: Rotating "round-robin", moduler layout, NMRA 1/48
Connecticut
Southern Connecticut Train Club
Monroe, Connecticut
Contact: James Cramond
Contact Tel: 203-261-7963
Contact Email: jcramond285@earthlink.net
Venue: TBD 2-rail with some 3 rail for kids.
Description: We are in the very infant stage, looking for a place so that we can construct a layout. We are also looking for other "O" scale two railers to participate in this club. When we do have a layout it would be open to the public. There would be a visitors fee, as far as the dues do not know. The mission statement would be to educate the youth about trains, hands on and workshops. When we can find a place the intent was to purchase the modular layout the club in Hudson, MA had to get us started if still available?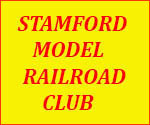 Stamford Model Railroad Club
Stamford, Connecticut
Address: St. John Episcopal Church, 628 Main Street (basement). Stamford, Connecticut
Contact: Jim Mardiguian
Tel: 718.347.3159
Email: D1wh2466@hotmail.com
Website: www.stamfordmodelrrclub.com
Venue: Permanent layout, NMRA 1/48
Description: The Stamford Model Railroad Club is a 2-rail O Scale club founded in 1939. We have a large DC operated permanent layout with 6000′ of trackage. Located at St. Johns Episcopal Church on the corner off Mian and Elm streets, we meet on Tuesday evening. New members are welcome, Please feel free to contact us using the information above. Come and visit.
Florida
Florida and Southeastern Georgia O Scalers
Coral Springs, Florida
Address: 8850 NW 29 Place Coral Springs, Fl. 33065-5365
Contact: Walter Horlacher
Tel:954.254.4609
Email: horlacherw@bellsouth.net
Venue: Modular layout, NMRA 1/48
Description: The Southeastern Florida O Scalers is a 2-rail O Scale group started in 2006. With our focus on presenting the O Scale 2 rail experience by operating at several local shows annually ranging from various club sponsored shows to TCA and GATS events. Our members by and large come from the Greater Miami/Fort Lauderdale and the Palm Beaches reaching all the way up the coast up to Jacksonville and even into Southeast Georgia. New members welcome and encouraged to build a module but it's not a requirement.
First Coast On30 Model Railroad Club
Coral Springs, Florida
Address: 8850 NW 29 Place Coral Springs, Fl. 33065-5365
Contact: Walter Horlacher
Tel:954.254.4609
Email: horlacherw@bellsouth.net
Venue: Modular layout, NMRA 1/48
Description: The Southeastern Florida O Scalers is a 2-rail O Scale group started in 2006. With our focus on presenting the O Scale 2 rail experience by operating at several local shows annually ranging from various club sponsored shows to TCA and GATS events. Our members by and large come from the Greater Miami/Fort Lauderdale and the Palm Beaches reaching all the way up the coast up to Jacksonville and even into Southeast Georgia. New members welcome and encouraged to build a module but it's not a requirement.
Georgia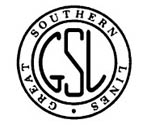 Railroad Model Club of Atlanta, Inc.
Atlanta, Georgia
Address: 487-1/2 Edgewood Avenue SE, Atlanta, Georgia
Contact: Bob Peppel
Tel: 770.695.7830
Email: rwpeppel@comcast.net
Contact: David Payne
Tel: 770.910.0091
Email: davidcofga@aol.com
Website: www.oscale-atlanta.info
Venue: Permanent layout, NMRA 1/48
Description: The club was founded in 1937 and moved to its present location in 1946. The layout is a point to point operation squeezed into a 25 x 75 space. The layout is traditional in every sense of the word. It is a straight DC operation with the layout divided into power blocks, our only surrender to modernity is that some of our lever/cable/counterweight switch machines have been converted to Tortoise machines. We operate on a time schedule train order basis which requires 5 yard operators and 3 main line cab operators as a minimum for satisfactory operation. From time to time we include switch lists to make it even more interesting. Our goal is to operate a real railroad in miniature.
We meet every Monday night from 7:30 to 9:30 (except for major holidays). Many Monday nights are operating sessions interspersed with maintenance sessions as necessary. We also have an operating session on the first Saturday of every month from 10:30 am to approx. 1:00 pm. All sessions are open to the public. Our monthly dues are $20 and we currently have memberships open.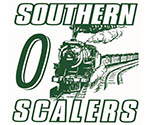 Southern O Scalers (SOS)
Canton, Georgia
Contact: Dan Mason
Tel: 770.337.5139
Email: daniel@southernoscalers.com
Website:www.southernoscalers.com
Venue: Portable Modular layout, NMRA 1/48
Description: The club was founded in 2005 with the goal that we promote O scale 2-rail at train shows and exhibitions in the Southeastern region of the U.S and provide a forum for sharing modeling ideas, railroad history and technical knowledge. The layout consists of 6' x 24" portable straight modules with 84" radius curved modules that are constructed of lightweight luann plywood based upon schematics as printed in O Scale News in the early 1990s of the CHAOS (Chicago O Scale Module Club). The layout is generally displayed in an 18' x 45' oval configuration and is fully sceniked with representations of the1930s – 1950s Southeastern and Northeastern regions of the U.S. We presently operate both DC and NCE DCC equipment and run standard locomotives and rolling stock. Any member may bring his/her models to operate and share with the group.
We generally have meets 1-2 times a month and attend a train show or exhibit 1-2 times each year. Memberships are offered to anyone that submits a member application and participates in the club activities. There are no formal dues, but donations are welcomed. We boast the longest and most detailed O Scale 2-rail U.S. military train (WWII & Korea) in the country.
Anyone that is interested in 2-rail O Scale is welcome. There is no admission fee.
Iowa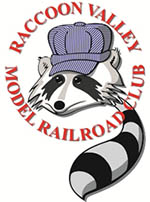 Raccoon Valley Model RR Club
Address: 5460 Merle Hay Rd. Suite G, Johnston (Des Moines), Iowa 50131
Note: The above is not a mailing address.
Club Website: http://groups.yahoo.com/group/rvmrrclub/
Face Book: http://www.facebook.com/groups/rvmrrc/
Contact: Ed Truslow
Contact Tel: 515.277.3442
Contact email: ed@ampiowa.com
Venue: Permanent layout, NMRA 1/48, On3, On30, HO, HOn3,
Description: The club dates back to the mid 70's. We have just signed our second 10 year lease at this location. The club features two scales, O scale 2 rail, On3, HO and HOn3. A small On30 and separate On3 are also incorporated in the club. Club membership is around 12 members. Monthly dues are $45.00. Club meetings are every Monday from 7:00 PM to around 10:00 PM. We have over 2,000 sq. ft. of space located in the basement of a strip mall. We are within 2 blocks of Interstate 35/80 in an upscale neighborhood. We encourage the public with an open house every first Friday of the month. Hours are 7:00 PM to 10:00 PM.
Louisiana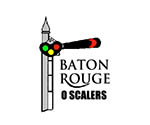 Baton Rouge O Scalers
Baton Rouge, Louisiana
Website: www.dovetailstudio.com/trains/o_scale.htm
Contact: Jim Buchtel
Tel: 225.926.3860
Email: j.buchtel@cox.net
Venue: Modular layout, NMRA 1/48
Description: Baton Rouge O Scalers is a group of people who enjoy building and operating 2-rail O Scale model trains. We usually meet once a week for fellowship and operation. While O Scale may not be the most popular size in model railroading, its advantages are numerous. The physical size makes it much easier to work with and highly visible details makes it preferable over the smaller scales.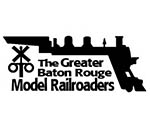 The Greater Baton Rouge Model Railroaders
Jackson, Louisiana
Address: 3406 College St, Jackson, LA 70748
Website: www.greaterbrrailroaders.com
Contact: Bob Coon
Tel: 225.767.2620
Email: kbcoon@cox.net
Venue: Modular layout, NMRA 1/48
Description:
Maryland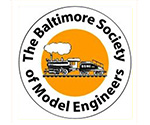 Baltimore Society of Model Engineers
Baltimore, Maryland
Contact: Doug Albrecht
Website: www.modelengineers.com
Venue: No more permanent layout. There is a club site for meetings, clinics, research, work on equipment and modules. The club is actively pursuing a new site for layouts (HO and O).
Hagerstown Roundhouse Museum
Hagerstown, Maryland
Contact: Gerry Smith
Email: 3scotties@comcast.net
Tel: 301.739.4665
Email: info@roundhouse.org
Website: www.roundhouse.org
Venue: Permanent layout, NMRA 1/48
Massachusetts

Southern New England Model Railraod Club
Gardner, Massachusetts
Contact: Rich Godfrey
Tel: 508-829-4529
Email: godfreys78@aol.com
Website: www.snemrr.org
Venue: Permanent layout, NMRA 1/48
Descripton: The Southern New England Model Railroad Club is an O Scale model railroad club located in Gardner Massachusetts where we are constructing a 40' by 65' permanent layout. Most of the track and Digital Command Control wiring is in place which allows us to operate trains. Scenery and structures are being added. New members are welcome. We also sponsor an annual October Train Show and participate in the "Tour de Chooch" open house event in November. The clubs schedule of events include Wednesday evening work sessions, occasional Saturday work sessions and a members-only bi-monthly business meeting.
The layout is a double track main line generating freight traffic from several online industries consolidated in the "Roland Roberts" main yard and then dispersed to other locations throughout the rail system. The state of the art design provides a linear walk-around model railroad using the "mushroom" techniques to greatly increase running length (850'). It's a great design and continues to provide interesting model railroad construction opportunities for the membership. Anyone interested in visiting or possibly becoming a member should contact the Membership Chairman. Dennis Lyons, Membership Chairman, 109 West Princeton Road, Westminster, MA 01473, Phone (978) 874-2075 or sneclubinfo@snemrr.org.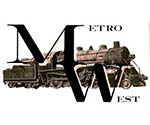 Metro West Model Railroading Society
Haverhill, Massachusetts
Contact: Bill Pirtle
Tel: 978.562.6879
Email: leebill196@verison.net
Website: www.trainweb.org/metrowest/
Venue: Modular layout, rotating "round-robin", NMRA 1/48
Description: We are a group of O scale model railroaders from the western suburbs of Boston. Mostly, we model in 2 rail O scale, but we do have some members who have hi-rail equipment. (hi-rail is 3 rail O scale, built to scale dimensions). Several of our members are also interested in narrow gauge, both On3 and On30. We sponsor an annual O scale Train show held in Hudson, MA, every April. We meet once a month at the home of one of our members. It is usually in the same location, but different members can take turns hosting a meeting. Several members have basement O scale layouts. The club has a 39′ x 16′ sectional layout in our clubhouse in Clinton, MA.
Michigan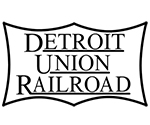 Detroit Model Railroad Club
Holly, Michigan
Address: 104 North Saginaw Street, Holly, MI 48442
Club tel: 248-634-5811
Website: www.dmrrc.org
Contact: Ed McDowell
Contact Tel: 248-926-1531
Tel: 248-634-5811
Venue: Permanent layout, NMRA 1/48
Description: The club was established in 1935 and is currently located in the old theater in historic downtown Holly, Michigan. The club's O scale layout depicts the fictitious Detroit Union Railroad, a freelance double-track line running from Detroit to Dorrance, Michigan, with continuing single track and branchline service to Keatington, Millersburg, and beyond. Narrow-gauge tracks interchange at Millersburg and serve customers up in the mountain region.
We are a 501-(c)-3 non-profit organization and we will gladly accept donations of salable items. Our Open House Show dates are posted on our website which is being reconstructed.
The club usually operates 19 public open house dates. Several classes of membership are available. Information of the open house dates and membership can be found on the club website at www.DMRRC.org. Club meetings are every Tuesday and visitors are welcome. Contact Dave Thornton at 248-879-6806 or the club at 248-634-5811 on Tuesdays for further information.
Minnesota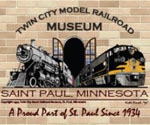 Twin City Model Railroad Museum
Saint Paul, Minnesota
Address: 1021 Bandana Boulevard East, Suite 222, Saint Paul, MN 55108-5111
Website: www.tcmrm.org
Tel: 651-647-9628
Email: tcmrm@tcmrm.org
Venue: Permanent layout, NMRA 1/48
Description: 3500 SF layout, open 6 days a week.
Missouri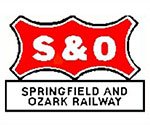 Big Bend Railroad Club, Inc
Webster Groves, Missouri
Address: Webster Groves Frisco Station, 8833 Big Bend Blvd.
Webster Groves, Missouri 63119
Contact: Ken Rimmel
Tel: 314-440-3707
Email: secretary@bigbendrrclub.org
Website: www.bigbendrrclub.org
Venue: Permanent layout, NMRA 1/48
Description: We are an 2-Rail O Scale (1/4″ to the foot) model railroad club that started in 1938 and have been located in the same building in Webster Groves, Missouri for the whole time. The building is a former passenger depot for the Frisco Railway that was constructed in 1910. We operate for the public on the first Tuesday of the month (Except holidays) from 7:00 PM until around 8:30 PM, with extra nights in December, and other days for special occasions. We meet each Tuesday at the station. The public is welcome to drop by on any Tuesday evening, and have a look around, but be aware that there may not be any activity on the layout other than the ongoing repair work.
New Hampshire

The Ammonoosuc Valley Railroad Association
Bath, New Hampshire
Website: www.trainweb.org/avra
Contact: Bill Driscoll
Tel: 603.747.3492
Email: choochootrains1942@yahoo.com
Website: www.trainweb.org/avra
Venue: Rotating "round robin", retired O scale modular layout, NMRA 1/48
Description: The Ammonoosuc Valley Railway Association is a group of local model railroaders, getting together once a month to experience the enjoyment of model railroading with others with similar interests. These gatherings are a combination of out monthly meeting and an operating session or bull session at the meeting host's home.
Regular meetings/Operating Sessions are held on the third Saturdays of each month at 1:30pm, unless rescheduled by a majority vote of the membership present at the previous meeting and announced in the club newsletter. The place of the meeting shall be decided at the previous meeting. They may be postponed or cancelled due to inclement weather or for other reasons at the discretion of the president or his designee.
New Jersey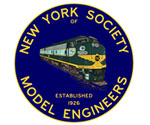 New York Society of Model Engineers
Carlstadt, New Jersey
Contact: Andy Brusgard
Tel: 908.686.4856
Email: contact@ModelEngineers.org
Website: www.ModelEngineers.org
Venue: Permanent layout, NMRA 1/48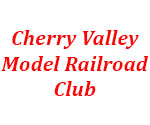 Cherry Valley Model RR Club
Merchantville, New Jersey
Contact: Chris Crane
Tel: 732.548.0210 Before 9 PM
Email: cherryvalleyrr@verizon.net
Venue: Permanent layout, NMRA 1/48
Ohio

Cincinnati Model Railway Club
Cincinnati, Ohio
Address: Harmony Lodge, 646 East Epworth Ave, Cincinnati, OH 45232
Contact: Frank Koch
Tel: 513-324-3781 or 513-732-3208
Email: fjkoch@hotmail.com
Website: www.cincyoscale.org
Venue: Permanant layout, NMRA 1/48
Description: The Cincinnati Model Railway Club (CMRYC) was started in 1932 by a group of model railroaders in the Cincinnati, Ohio area. It was formally organized in 1934.
Western Reserve O Scale Club
Cleveland, Ohio
Contact: Sam Shumaker
Tel: 440.248.3055
Email: J3a5436@gmail.com
Venue: Round Robin Group
Description: Rotating "round robin" first Friday or Saturday of the month. NYCSHS member.
Central Ohio O Scale Engineers
Columbus, Ohio
Contact: David Richter
Tel: 614.459.5206
Email: drichter@sciotangy.com
Venue: Modular layout, NMRA 1/48
Description: Modular group involved with many national train shows of all kinds.
Youngstown Model Railroad Association
Youngstown, Ohio
Address: 751 N Four Mile run Road, Youngstown, Ohio 44515
Website: www.ymra.org
Contact: Chuck Willet
Tel: 330-799-8691
Email: CWJW40@zoominternet.net
Venue: Permanet layout, NMRA 1/48
Description: Club is open every Friday 8-10 PM.
Oklahoma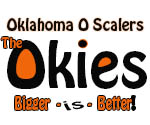 Oklahoma City O Scalers
Oklahoma City, Oklahoma
Contact: George Wallace
Tel: 405.751.7649
Email: thudchief1@sbcglobal.net
Venue: Informal, On3 Modular, permanant O scale layout, NMRA 1/48
Pennsylvania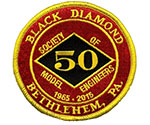 Black Diamond Society Of Model Engineers (BDSME)
Bethlehem, Pennsylvania
Address: 902 Macada Rd., Bethlehem Pa. 18017
Contact: Daniel Mehen
Tel: 610.974.9718
Email: bds900@rcn.com
Website: www.bdsme.org
Venue: Permanent layout, NMRA 1/48, On30
Description: Incorporated as a nonprofit organization in March, 1965, the Black Diamond Society of Model Engineers was formed from the nucleus of previous model railroad clubs in the area dating to 1948. Our membership has many vocations but as rail enthusiasts, our common bond is the flanged wheel on the steel rail. The Society's objectives are to promote cooperation, fellowship and understanding to persons who are interested in Model Railroading, obtain facilities for meetings, discussions, exchange of information, construction and operation of model railroads.
The first floor 650 square foot layout features models of O, On30 and S scale steam trains from the glory days of railroading to the mighty diesel locomotives of today, including prototype sights and sounds. Operating semaphores and signals further enhance the display. Visitors can even operate specific accessories.
The second floor 800 square foot HO scale display has a multitude of trains in operation, including a loaded coal train stretching to more than 100 cars powered by multiple diesel locomotives winding through mountain scenery. A miniature trolley travels between a village and a distant amusement park with both an operating ski lift and rides. Visitors can operate the park train, too.
We meet Tuesday evenings at 7:30p.m. The Public is always welcome. The first Tuesday of each month is a business meeting. The other Tuesdays are either work or operating sessions. Membership in our Society is open to all persons with an interest in model railroading. Memberships are available starting at $15.00 a year. For more information, click on the links below, drop by on a Tuesday evening or send us some email. We would love to hear from you.
South Central Pennsylvania O Scalers
Gettysburg, Pennsylvania
Contact: Rich Randall
Email: rrand4449@aol.com
Venue: Rotating, NMRA 1/48 , UK 7mm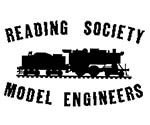 Reading Society of Model Engineers
Reading, Pennsylvania
Address: P.O. Box 13011, Reading, PA 19612
Club Tel: 610.929.5444
Contact: Joseph Donches
Email:
Website: www.rsme.org
Venue: Permanent layout, NMRA 1/48
Description: The RSME is a model engineering club focusing on all aspects of railroading. Our 25 acre site is located near the city of Reading in Berks County, PA. Our property features outdoor ride-able railroads including the 15″ gauge Laurel Run Railroad and the dual gauge, 7.25″ and 4.75″ gauge live steam railroad. On the second floor of the clubhouse we have a large "O" scale, "On3" scale, and "O" gauge model railroad.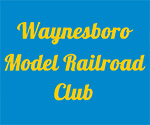 Waynesboro Model Railroad Club
Waynesboro, Pennsylvania
Address: 3291 Waynescastle RD., Greenscastle, PA 17225
Club email: waynesboromrrc@gmail.com
Contact: Gerald Wheeler
Tel: 240.625.8252
Email: clavinthecoal@live.com
Website: www.waynesboromrrc.com
Venue: Permanent layout, NMRA 1/48
Description: Founded by people with a shared passion for model railroading, the Wanyesboro Model Railroad Club prides itself on the dedication and the close relationships that are built alongside of the club layouts. Always looking for new and exciting ways to improve the layouts, the club uses some of the latest technology including MRC and Digitrax DCC layout systems for smooth control and public enjoyment. The Club prides itself on hosting five scale sizes, including N, HO, S, O, and three-rail O.
Dallas/Fort Worth O Scale Club
Dallas-Fort Worth, Texas
Contact: Brady McGuire
Tel: 903.868.2726
Email: bradyprrm1a@cableone.net
Contact: Stan Schwartz
Tel: 972.359.8242
Email: ss124@sbcglobal.net
Venue: Modular layout, 12×41 and Trolley/Traction Modular 3×22, NMRA 1/48
Notes: Two-three shows per year
Eastern US
US Gauge 0 Northeast (USGONE)
Northeastern USA (Regional)
Contact: Glen Suckling
Tel: 315.342.8057
Email: gog15102@twcny.rr.com
Venue: Portable display layout, Home Layouts, UK 7mm
Washington
The ROTTERS
Edmonds, Washington
Contact: J. Woody Mathews
Tel: 206.723.8746
Email: woodymathews@hotmail.com
Venue: Rotating "round-robin", NMRA 1/48
Canada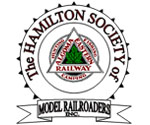 Hamilton Society of Model Railroaders, Inc. (H.S.M.R.)
Ontario, Hamilton
Address: 116 MacNab Street. S, Hamilton, ON L8P 3C3 (McNab Hall, basement of McNab street Presbyteryan Church, between the east end of Hunter street tunnel and the GO Transit station, sorry not wheel chair accessible.)
Contact: Glen
Glen's Tel: 905.318.1416
Contact: Ken
Ken's email: hamiltonoscale@hotmail.com
Venue: Permanent layout, NMRA 1/48
Description: Established in 1932, we are one of the oldest and longest running model railroad clubs in North America currently building our 5th layout "The Algoma Eastern". A subsidiary line of the Canadian Pacific operating in Ontario's near north Sudbury/Manitoulin Island Region; also known as the Nickel belt region. The layout features two 400′ main lines; CPR/AER and CNR in a 2000 square foot area (33′ by 63′). The layout includes; 3 turntables, an interurban area and a branch line, plus an interchange yard between the two main lines with a helix into the storage yard and port facility.
We are open for Hamilton's "DOOR'S OPEN" seeking new membership, all inclusive. We model the steam/diesels transition era of late 50's early 60's. Members of the club also run a "big boys" and a "cab forwards. Open Friday nights 8 PM.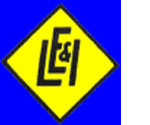 London Model Railroad Group Inc.'s
Ontario, London
Address: 69 Holborn Steet, London, Ontario
Website: www.lmrg.org
Tel: 519.432.1491
Email: contact@lmrg.org
Venue: Permanent layout, NMRA 1/48 On3 Trolley
Description: In 1970, after fire damage and urban renewal removed the first building, the club moved to its current location at 69 Holborn St. The layout room is 32 by 12 meters and contains three types of "O" Scale railway models, standard gauge or mainline, trolley, and narrow gauge.
Our layout is open to the public the first Tuesday of each month from October to May, and special dates around Christmas and school March break. Be sure to check the Events page for a detailed schedule. The summer months from June to September are closed to allow us to do more major reconstruction projects, building maintenance and spend the short summer weather with our families.
We also hold a Model Railroad Flea Market and Exchange each year on the Sunday of the last full week of September.
Check out the Events page for more details.
Ontario, St. James
Address: 1440-3 King Street North, St. Jacobs, Ontario
Tel: 519.664.3737
Email: info@stjacobsmodelrailway.com
Website: www.stjacobsmodelrailway.com
Venue: Permanent layout, NMRA 1/48
Description: St. Jacobs & Aberfoyle Model Railway is North Americas finest "O" Scale Layout. Showcasing Southern Ontario during the 1950's. Come see our huge world renowned display accurately portrayed to every last detail.
In 1982 AJ1 was moved about a kilometer up the road to a Steel building. In this new home the original display was expanded and dubbed as AJ2. The display grew to over 3000 square feet and operated in Aberfoyle until its last show in May 13th 2012. With the land that housed Aberfoyle Junction being developed the display desperately needed a new home. With help and generosity of a few key people it was decided that the Display would have a new home in St. Jacobs. The display was then cut into 51 sections and moved over 40km's away to its present location in downtown St. Jacobs.
St. Jacobs & Aberfoyle Model Railway Show Dates Admission Fees – Can be purchased Online or at the Door. Adults $8.00 Seniors $7.00 Children $5.00. Check the website for show dates.

Model Railroad Club of Toronto
Ontario, Toronto
Address: 11 Curity Avenue Unit 2, Toronto, Canada
Contact: Phil Spencer
Tel: 416.536.8927
Email: info@modelrailroadclub.com
Website: www.modelrailroadclub.com
Venue: Permanent layout, NMRA 1/48
Description: One of the oldest and largest model railroad clubs in Canada. We are rebuilding the new Central Ontario Railway in new premises. The layout will continue the traditon of depicting the late 1950s transition era with steam and first generation diesels. Featuring 4000 feet of track and operation will be computer-controlled DCC. The Central Ontario Railway also connects with both the Canadian National and Canadian Pacific Railways. We are planning on initial limited operation in 2015. Visitors are welcome to see the layout under construction. Work takes place on Wednesday evenings and Saturday. Please email us if you would like to see the layout so arrangements can be made.
United Kingdom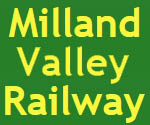 Liphook & District Model Railway Club
Milland West Sussex, United Kingdom
Contact: Tony Bettger
Email: tony@bettger.net
Website: www.millandvalleyrailway.co.uk
Venue: New Build, UK 7mm, NMRA 1/48, MOROP O