Building a Mac Shops kit for the Class S-21 B&O 16 duplex roomette / 4 double bedroom sleeper "Kingfisher"
In May, 1954 B&O took delivery of eleven new Budd built 16 duplex roomette / 4 double bedroom sleepers. Each was named for a bird, from "Bobolink" to "Wren." I was aboard the "Bobolink" at Jersey City in May on its first day of service. It was assigned to the National Limited as the Jersey City to Louisville KY car.
The occasion was a high school field trip to look at the metropolitan New York area transportation field. We visited air liners at major airports, ocean liners at Manhattan piers, ship yards, trains and also mass transit and commuter rail services. I ended up working for a naval architect firm for several years after graduation. That was how I financed my college degree.
Below is B&O's begrimed and dusty "Cardinal," photographed in the 1960s somewhere in the Carolinas when on lease to the Seaboard Coast Line.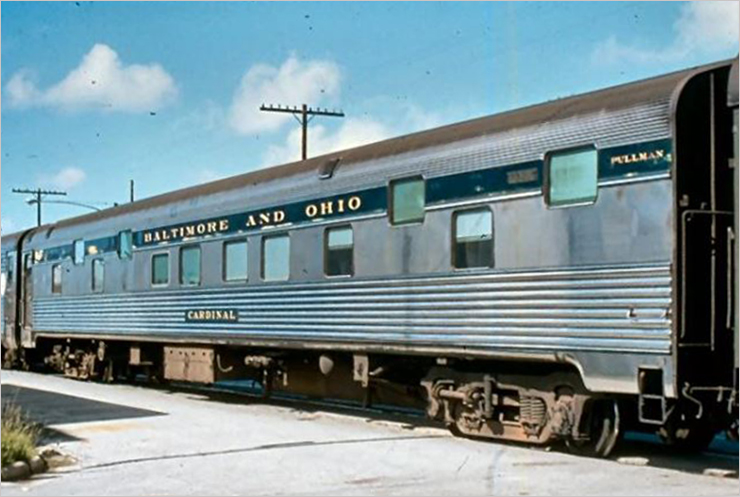 Mac Shops produced an extruded aluminum bodied kit for this car in the early 1990s. The kit came with cast pewter ends and vestibule doors as well as a floor and some underbody details.

Basically, clean up the body and castings, drill a few holes for handrails and grab irons, then add whatever details are desired and assemble. Below is the body with ventilators hand rails, grab irons and vestibule doors installed. A cut out was made in the rear skirt for a stirrup. Cleaning this body had a few problems. It was extruded in 2002 and sat for over a decade with the cutting oil drying and slightly corroding some of the fluting. A few areas had to be dressed with knife-edged needle files and steel wool to remove stain and pit marks. But in the end, it shined up well!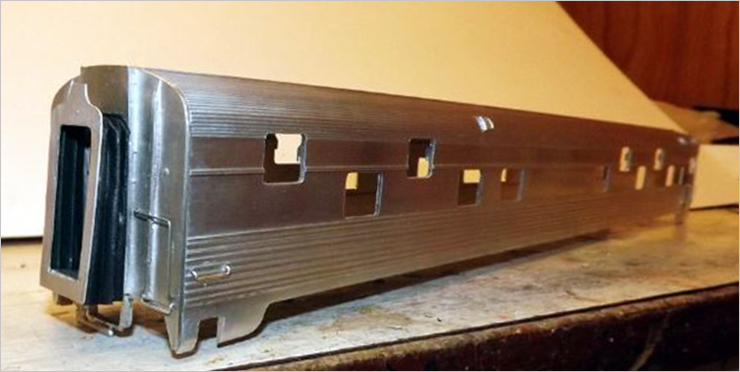 The car end is fitted in place with its grab irons and diaphragm. A strip brass double step will be made and inserted into the skirt opening on each side of this end. Differently shaped strip brass stirrups will be made for the vestibule end.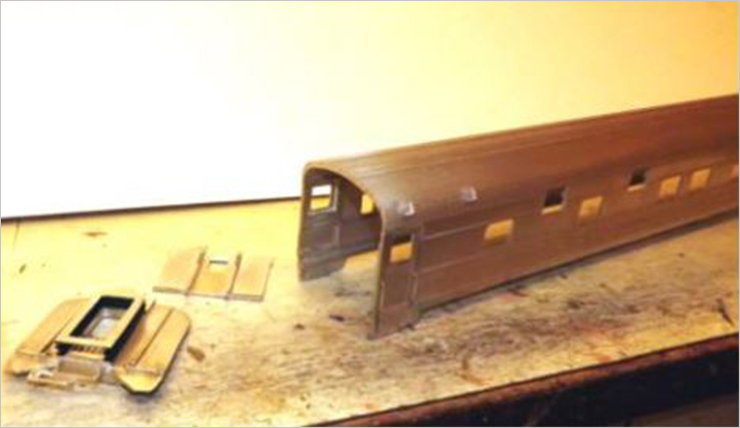 Here the vestibule end has been detailed and given an end gate. Mac Shops includes the inner vestibule wall and door, to which hand grabs have been added.

Now for the underbody details. Keil Line offered many suitable parts, including correct Budd battery box covers, an inverter and generator as well as brake parts. Wood bolsters were made along with a wood center sill having styrene strip flange caps. Thin aluminum covers the boxes.


Now, up on your "feet" for a check over! All that remains is the interior, lights, paint and lettering. Kadee 700 series long shank couplers were installed, along with American Lightweight Delrin trucks, modified for electrical pickup.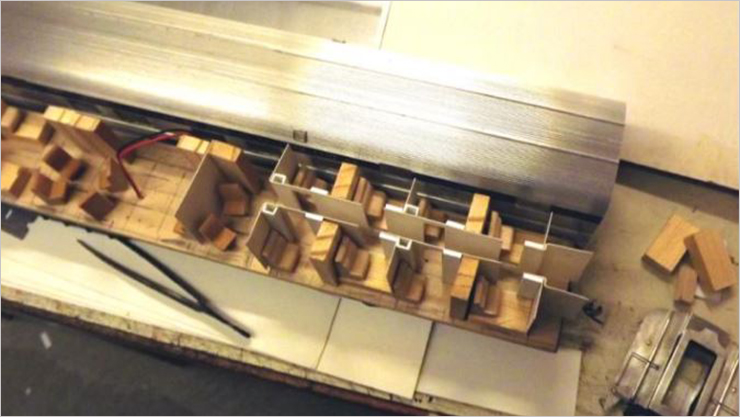 The interior was detailed with scrap wood and milled wood seat stock from Keil Line. Card stock mat board was used for the walls and dividers. Mac Shops produces a heavy car, so the interior was made of lightweight materials.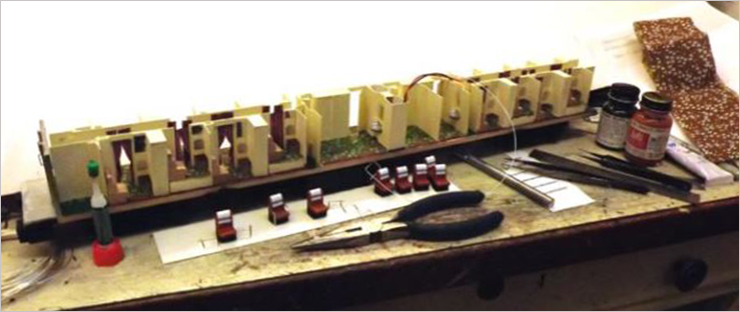 Some paint here and there, as well as a few touches like detailed seats, mirrors, sinks, carpets and door curtains fill it all in. Passengers will be added as well, as soon as their accommodations are ready. If you have followed this series so far, you can see the same detailing methods used on all the cars.
The power lead for the lights is at the middle of the car, through a toilet room where it will not be seen through a window. The LED lighting is set to shine up to the underside of the car roof which has been polished and waxed, to reflect light evenly, down into the car.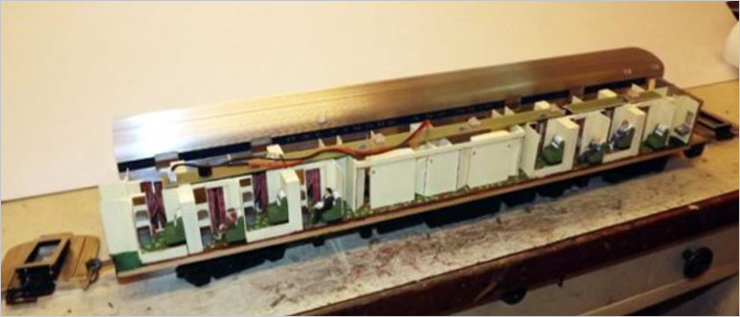 Note the interior details are inset, to allow for the floor flanges of the extruded aluminum body.

Glazing and window shades made of gray ribbon have been put in, along with safety railings in the bedroom area corridor. Micros Sale decals complete the car lettering, which includes the word "PULLMAN" at each end in small letters, denoting Pullman Company service.
The newly built "Kingfisher" of 2015 stands beside the "Bobolink", done in 1993 some 22 years earlier. It also has full interior detail.

The names B&O gave to these ClassS-21 cars were: "Bobolink," "Cardinal," "Gull," "Kingfisher," "Mockingbird," "Oriole," "Quail," "Robin," "Swan," "Thrush" and "Wren." Some of them survived to see Amtrak service into the 1970s.

The completed B&O Budd sleeper "Kingfisher." These cars saw service on the Capitol and National Limiteds, as well as the Ambassador to Detroit. As B&O passenger loadings declined, the cars were leased to other railroads, notably the Seaboard Coast Line for New York – Florida service.

"Bobolink" and "Kingfisher" together for a brief time before 'Kingfisher" was sent to its owner.
Model built during July and August, 2014. This article by Edward F. Bommer, July 2016.